Harren & Partner has entered an agreement to buy DEME's DP2 jack-up installation vessel Thor.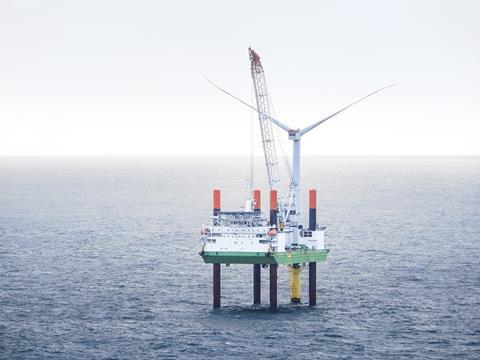 The vessel has been part of the DEME fleet for more than 10 years and has been largely deployed for installation and maintenance works at offshore wind farms. It brings Harren & Partner's number of offshore installation ships up to four – the DP2 offshore construction and heavy lift vessel Mexican Giant, the DP3 offshore construction heavy lift twin-gantry catamaran VB-10,000 and the two jack-up vessels, Wind Lift I (DP1) and Thor.
Heiko Felderhoff, managing director of the Harren & Partner Group, said: "We are very happy that we were able to finalise this acquisition. Thor is a modern ship with a flexible economic design. A valuable addition to our fleet, she underlines our growth ambitions in the rapidly expanding market for offshore wind energy."
Together with its partners, OWS Off-Shore Wind Solutions and Wind Multiplikator, Harren & Partner will deploy Thor for major component exchange services at the Nordsee One wind farm. Thor will also support other wind farms later in the year.
Dr. Martin Harren, ceo of Harren & Partner Group, underlined the importance of the renewables sector for the entire group: "Wind energy has been a cornerstone of our business in recent years, and we are determined to further expand and strengthen our contribution to the ongoing energy transition. By providing maintenance and installation services, we bring a comprehensive range of services to the renewable energy market while meeting the highest standards and expectations of these clients."
DEME's jack-up installation fleet will soon be bolstered with the addition of the DP3 vessel Orion, which features a 5,000-tonne capacity crane, as well as the newbuild jack-up Green Jade – this vessel is under construction in Taiwan and is a joint venture between DEME and CSBC.