DEME's Orion, fitted with Liebherr's HLC 295000 crane, has completed its first two offshore projects in the wind energy industry – installing components for France's Fécamp and Germany's Arcadis Ost 1 offshore wind farms.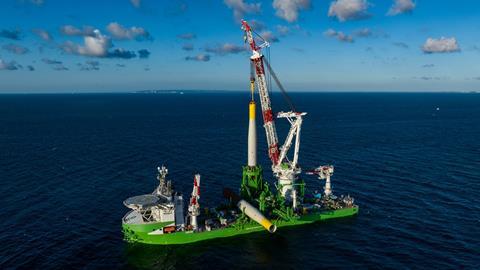 Beginning mid-August, the HLC 295000 set down the first 1,300-tonne jacket foundation on Fécamp offshore wind farm's prepared seabed, on which a 2,200-tonne transformer platform for a substation was installed.
The high-precision capabilities of the HLC 295000 and the dynamic positional system of the installation vessel Orion led to a quick and effective operation – undertaken through heavy weather conditions – in less than 24-hours, said Liebherr.
A few weeks earlier, Orion began installing 28 monopiles at Parkwind's Arcadis Ost 1 wind farm, as HLPFI reported here.
The monopiles were 110 m in length and weighed up to 2,100 tonnes. Installation time was dramatically reduced owing to Orion's ability to install monopiles while floating, instead of being jacked up out of the water.
"Our initial experience indicates that the installation times of previous vessels of about 3 to 3.5 days per monopile can be significantly reduced to about 0.9 to 1 day per monopile with the use of the Orion and our HLC," said Robert Pitschmann, global application manager at Liebherr.