Huisman secured a contract for a 3,000-tonne leg encircling crane from COSCO Shipping (Qidong) Offshore, which will be installed aboard a Cadeler jack-up vessel.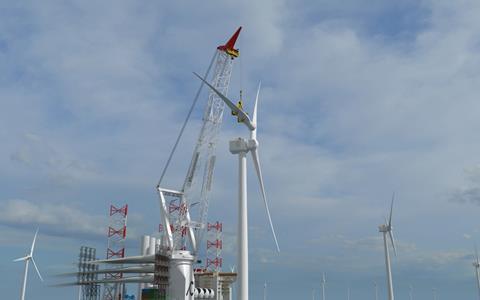 The leg-encircling crane will be fitted to Cadeler's second newbuild F-class jack-up vessel. According to Huisman, the vessel features a unique design that allows it to convert from a foundation installation unit to a wind turbine generator installation vessel within a short period of time.
Earlier this year, COSCO awarded Huisman a contract to design, manufacture and install a leg-encircling crane on Cadeler's first F-class vessel, as HLPFI reported here.
Mikkel Gleerup, Cadeler ceo, said: "Based on our previous experience from working together with Huisman on the cranes for the two new X-class vessels, we are confident that also this time around they will be able to deliver the high-quality cranes we need for our new F-class vessels, which will be able to lift the next generation of turbines and foundations."
The crane will be manufactured at Huisman's production facility in Zhangzhou, China, and is scheduled for delivery by the end of 2025. It will be commissioned in 2026 at COSCO's shipyard in Qidong, China, where both F-class vessels will be built.