Huisman will deliver an offshore mast crane (OMC) that will be installed on the offshore construction vessel Green Jade, which will be deployed in the Taiwanese offshore wind energy market.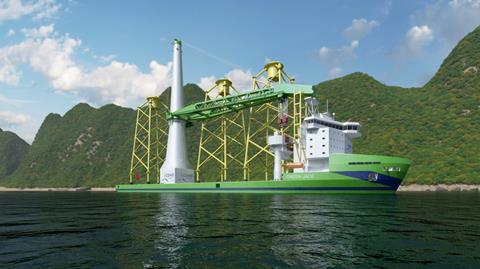 CSBC-DEME Wind Engineering (CDWE) reached a final investment decision for the construction of Green Jade at the end of June 2020, as HLPFI reported here.
The vessel will be used on the Hai Long and Zhong Neng offshore wind farms, for which CDWE signed contracts for in 2019. Green Jade will be delivered in 2022.
The OMC will have a lifting capacity of 4,000 tonnes at 125 m above deck. Its whip hoist also allows smaller components to be lifted to a height of 185 m above deck. The winches are located at deck level, which gives the crane a lower centre of gravity compared with conventional cranes, and thus improved stability – this makes it suited to turbine foundation installation, said Huisman.
Huisman will also deliver a 65-tonne knuckleboom crane for general lifting. Both cranes will be installed and commissioned at the CSBC shipyard in Taiwan.