On September 5, 2022, Jan De Nul's jack-up vessel Vole au vent completed the installation of 80 wind turbines at the Saint-Nazaire offshore wind farm in France.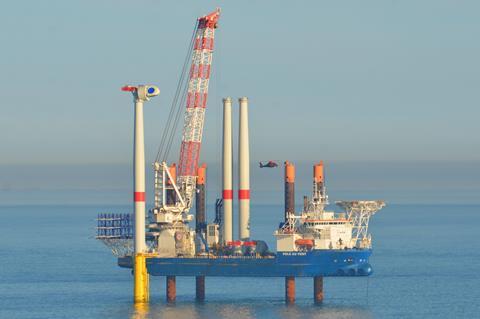 The 6 MW wind turbines were transported in sets of four on Vole au vent from Forme Joubert lock approximately 12 km (7.4 miles) offshore. The components were then installed on top of the foundations located on the Banc de Guérande seabed, in the northern part of the Bay of Biscay.
Preparations began in summer 2021 with Jan De Nul's ocean-going cutter suction dredger, Fernão de Magalhães, which prepared the rocky, uneven seabed to provide a secure base for Vole au vent.
"The exceptional installation progress has been the result of an extensive engineering process, optimised vessel preparation and planning, and an excellent collaboration with Parc éolien en mer de Saint-Nazaire and the turbine supplier GE," said Pieter Vandezande, project manager, Jan De Nul Group.