Siemens Gamesa, MHI Vestas, Blue Water Shipping, the Dockers Union and the port of Esbjerg have teamed up to implement an improved safety initiative at the Danish port.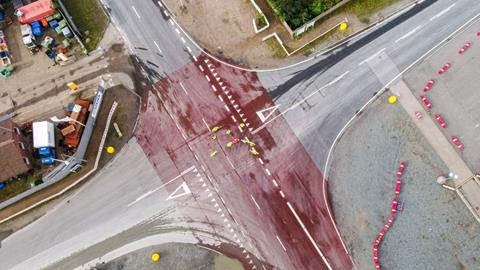 With a focus on the offshore wind energy industry, the partners observed and reported near miss situations at one of the port's intersections. The parties consequently agreed to cover the area with a layer of red asphalt to warn drivers.
The port of Esbjerg said: "Loading and unloading of major components is everyday business for the equipment manufacturers, stevedores and dock workers, while traffic with trailers, trucks, reach stackers and other handling equipment is busy and the aspect of road safety is added to the complexity of safety within the port. While the industry is busy securing clean energy for the world, safety remains a number one priority."
It added that significant progress has been made since the first offshore wind farms were installed nearly three decades ago; in 2018, major players came together to develop guidelines for the planning and execution of wind turbine generator lifting operations, which has resulted in a best practice for the industry.