Heavy lift services specialist Malin Abram, part of Malin Group, used its 137 m-long CD01 barge to roll out BAE Systems' Type 26 vessel on the River Clyde in Scotland.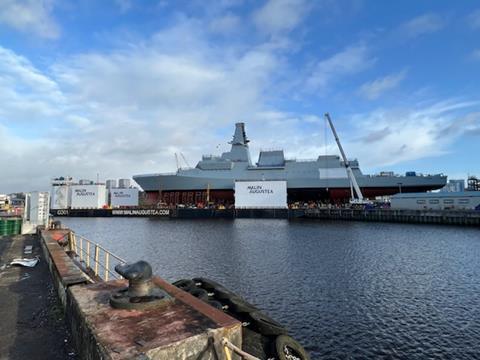 The project, which was almost three years in the planning, saw the ship carefully rolled onto the semi-submersible launch barge, after which it will be moved downriver and submerged for float off and launch.
According to Malin Abram, since its modification, the barge is considered one of the largest in Europe and can submerge to a maximum 11 m over deck allowing it to float-off cargoes with up to a 9.5 m draught.
"We are thrilled to have completed this key stage of the project; there are a myriad of considerations with roll-out and float-off operations, from the weather and tides to the weight and dimensions of the vessel itself, so seeing her safely secured to the barge is great," said Jamie Bowie, engineering director at Malin Abram.
"Working with BAE Systems and the Ministry of Defence has afforded us the opportunity not only to bring a new capability to the Clyde in the form of one of the largest floating dock barges in Europe, but also provided invaluable experience to a full team of naval architects and engineers – an experience they will never forget."
The contract marks a first for the company, representing a move to equipment ownership via a joint venture between the Malin Group and Italy-based shipping company, Augustea Group.
In May 2021, HLPFI reported that the joint-venture had begun modifying the semi-submersible barge by lengthening and strengthening it at the Hat-San shipyard in Turkey.
BAE Systems and Malin Abram's relationship goes back to the late 1980s when the group shipped pressure hull rings from Glasgow, Scotland, to Barrow, England, for the Trident nuclear submarine programme.