DNV GL has launched its Certification in Infection Prevention – Maritime programme (CIP-M). The certification has been developed to give passengers and crew confidence that comprehensive infection prevention measures are in place.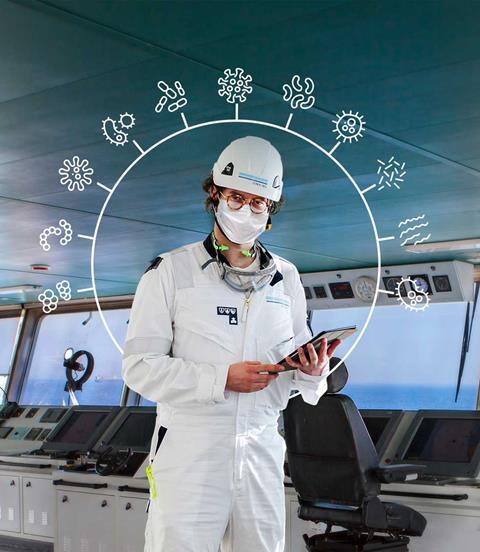 Simon Mockler, head of section maritime advisory Americas at DNV-GL said this initiative builds on a DNV GL Healthcare programme that has been available since January 2019. It comprises a holistic set of requirements for infection prevention and control management system; it has been tailored to fit with established maritime codes and standards as applicable.
The idea for CIP-M came to light during March when discussing construction standards with a view to assisting with a conversion of a passenger ship to act as a hospital ship.
Patrick Horine, ceo at DNV GL- Healthcare US added: "As we began to review the established CIP requirements we apply to hospitals, it rapidly became clear that there were a lot of areas which were directly applicable to the maritime industry, especially to passenger ships. We then, with our maritime colleagues, went to work aligning the requirements with existing maritime regulations and practices, in particular the ISM Code."
Requirements have been scaled back in areas such as medial services, and increased focus has been placed on sanitary and transmission-based precautions in accommodation areas.
Vessel owners can participate in an office-based audit of the company's management system, that allows DNV GL. "This audit allows us to evaluate the processes the company will use to manage infection risk," said Mockler. "A gap assessment approach for the audit allows us to evaluate the organisational capability and competence, as well as to ensure that any local or industry specific requirements are properly addressed. The initial audit is then followed by a shipboard survey to verify implementation of the program's requirements."
The survey is carried out by a team of infection prevention and control practitioners supported by DNV GL - Maritime surveyors and auditors. Successful completion of the programme will lead to individual ship certification with an ongoing verification scheme to ensure continued compliance.
"CIP-M combines the extensive, hands-on, and practical expertise from two of DNV GL's businesses to help owners and operators in their efforts to restore the confidence of crew, passengers, and other external stakeholders that protective processes are in place and that measures to reduce infection risk have been taken," Mockler explained.