Trailer manufacturers Scheuerle and Kamag – part of the TII Group – have reported signs of an increase in demand for wind projects in North America. As a result, demand for specialised transport solutions are also on the rise.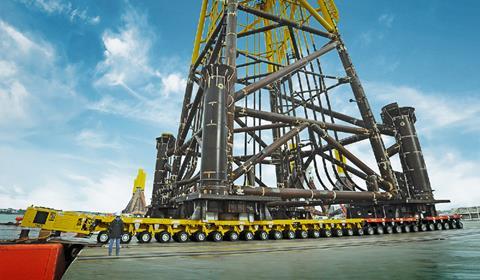 Considered a safe and relatively inexpensive power source, wind energy is a key driver of the transition to renewable energy. The TII Group subsidiaries said that tax benefits for new wind turbines, as well as ambitious government goals, have given the North American wind energy sector a major boost.
Turbine components – such as rotor blades, tower segments and nacelles – require transportation from production sites and intermediate storage facilities. Considering the wide range of dimensions and weights of such components, Scheuerle and Kamag stress the importance of functional, safe, and flexible transport options.
SPMTs, according the manufacturers, are ideally suited for use in the wind energy sector, as their scalable design means they can be adapted to accommodate any load. For example, tower segments can be transported directly on the platform itself or with the help of special adapters and boiler decks.
Scheuerle also developed self-propelled platform vehicles in its InterCombi SP/SPE series – these are mostly used for the transport of loads with simple proportions but high unit weights, such as monopiles.
For rotor blades, which can measure up to 80 m or more in length, Scheuerle explained that with the use of adapters, "even the most difficult sections of a route can be easily mastered." With the aid of these adapters, loads can be raised up to an angle of 70 degrees whilst in transit and be rotated around obstacles.
Moreover, as technologies in the wind energy sector emerge and develop, turbine components are increasing in size, as HLPFI reported in the August/September edition of the magazine.
With this brings extra challenges in terms of providing competitive transport solutions. However, Scheuerle said that with the market knowledge and expertise built at the TII Group, it aims to continue to produce forward-looking transport solutions to support both onshore and offshore projects.
Another issue arising from the increasing size of turbine components, especially for the offshore wind energy sector, is the future availability of the right type of high-end heavy lift shipping capacity.
Speaking with HLPFI earlier this year, Christian Hoffmann, head of marketing and corporate communications for SAL Heavy Lift, commented that the shipping industry has not added any specialised tonnage for years. He explained that at some point in the future, it is likely that there will be increased pressure on capacity.
Thore Schreiber, head of business development and sales for Rhenus Offshore Logistics, was also cautious about the future availability of shipping capacity. Nevertheless, he was optimistic: "It is a very natural supply and demand sector and as long as new projects with even heavier components are planned, the vessel market will adapt accordingly."