Toepfer Transport has reported that time charter rates in the multipurpose shipping sector are continuing to climb, and high premiums have surpassed the peak levels of 2008.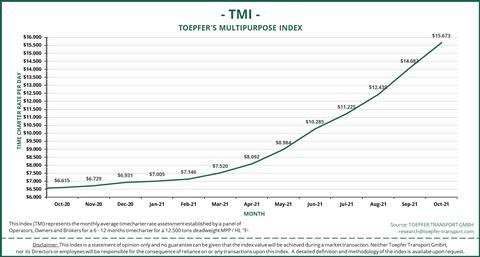 The average daily time charter rate for a 12,500 dwt/F-type heavy lift vessel hit USD15,673 at the start of October 2021 – an increase of 11.29 percent over September 2021 levels. Year-on-year, the daily time charter rate has increased by some 136.92 percent.
Toepfer commented that forwarders and logistics companies have a hard time accommodating their container, breakbulk and project cargoes to fulfil contractual obligations. Wind turbine manufacturers are reportedly struggling to find capable tonnage to perform their scheduled shipments without heavily straining their budgets.
The shipbroker and industry analyst said: "The sales and purchase market is red hot and demand for multipurpose tonnage is huge with increased interest also from the container sector.
"Some sellers are inspired to increase their price tags along with higher demand to such extent that potential buyers hesitate to follow, so quick deals are no longer easy to be done. The availability of multipurpose newbuiliding slots remains scarce. As the container and bulk ship ordering spree continues, the window of opportunities for non-standard ship designs including multipurpose vessels gets even smaller."