Neoline has once again selected Neopolia Mobility to construct two wind-powered ro-ro vessels.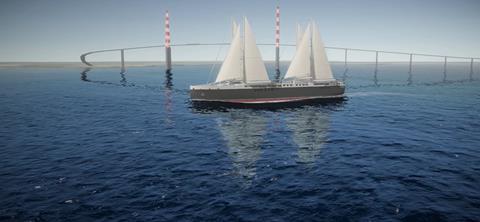 After signing a letter of intent (LoI) with the Loire-based shipbuilder during 2019, Neoline began a second tendering process at the end of 2020 with approximately ten international shipyards. Neoline said that it has now confirmed the choice of Neoplia Mobility, with the project now in the financial closure phase.
The objective is to start construction this summer, with the goal of commissioning the wind-powered ships in the first half of 2024. The original agreement would have seen the construction of the first ship begin in late 2019, with the first service (connecting Saint-Nazaire to the US East Coast and Saint-Pierre and Miquelon) scheduled to start in 2021.
"These next weeks will be focused on obtaining the agreement of banking financing, which remains a challenge within the framework of an innovative project," said Jean Zanuttini, president of Neoline Développement. "However, our banking partners are very mobilised and sensitive to the commitments made by the pioneer shippers who are accompanying us, such as the Renault Group, Manitou Group, Groupe Beneteau, Jas Hennessy & Co, the Michelin Group and Clarins. Other shippers are preparing to join them."
The ships will be used for Neoline's ro-ro transport service that aims to reduce fuel consumption by 80-90 percent.
The concept has already garnered interest from some of Neoline's customers that manufacture heavy and oversized cargo. In July 2020, boatbuilder Groupe Beneteau entered into an agreement with Neoline that will see the company deploy the wind-powered ships to transport cargoes on its services between France and North America.
Delphine Planes, Groupe Beneteau's purchasing director, said that "thanks to the vessels' garage height, we will be able to safely transport our large units of over 40 ft [12.2 m] inside these ro-ro vessels."