The US state of New Jersey has released plans to construct a purpose-built marshalling and manufacturing port dedicated to the offshore wind industry.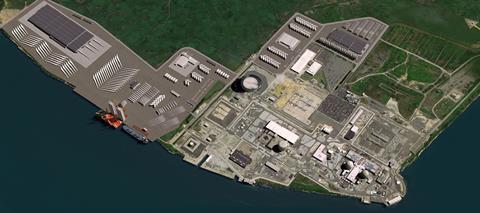 Located in Salem County, New Jersey Wind Port would be located close to some 50 percent of the USA's offshore wind lease areas on the eastern seaboard.
The New Jersey Economic Development Authority (NJEDA) is leading the development. Construction could begin during 2021 and would take place across two phases. The first would see a 25 acre (10.1 ha) manufacturing site and a 30 acre (12.1 ha) marshalling yard come online in 2023 – in time to support the first round of New Jersey and East Coast projects.
The first phase includes: dredging from the Delaware River channel; the construction of a heavy lift wharf with a dedicated delivery berth and an installation berth that can accommodate jack-up vessels; and an overland heavy haul transport corridor.
Phase two would expand the marshalling and manufacturing space by a further 160 acres (64.7 ha). Parcels are expected to become available between 2024 and 2026.
New Jersey aims to have 7,500 MW of offshore wind energy capacity installed by 2035. Governor Phil Murphy said that to meet this goal, the state must be as ambitious in building out its energy infrastructure. The port "is one way that we will position our economy for growth as we emerge together from this pandemic", said Murphy,
Also supporting the state's ambitious clean energy goals is South Jersey Port Corporation's (SJPC) Paulsboro Marine Terminal, which opened in 2017. The second phase of the terminal's construction is scheduled for completion in 2021, at which point it will be equipped with three berths on the Delaware River and a barge berth on Mantua Creek.
Paulsboro, which has already handled millions of tons of steel since opening, is also being built to support the offshore wind energy.