2022 proved to be the North Sea Port's best-ever year for cargo throughput.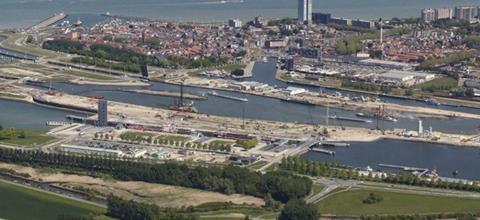 Breakbulk made up 14 percent (10 million tonnes) of the gateway's throughput, up 5 percent year on year over 2021. This increase is attributable to growth in the transhipment of steel plates and bananas (which were shifted from containerised transport).
The ro-ro segment grew by 5 percent year on year to 3.7 million tonnes, thanks to an increase in volume of cars. The share of trailers remained the same.
Dry bulk represented 54 percent (39.9 million tonnes) of all seaborne cargo handled at the port, up 10 percent over 2021. Containers made up 3 percent of seaborne cargo transhipment, down 9 percent year on year; 31,000 fewer teu was handled last year, the total standing at 230,000.
In total, maritime shipping accounted for 73.6 million tonnes of cargo transhipments (+7 percent year on year), while inland shipping accounted for 64.5 million tonnes (+7 percent over 2021).
The USA supplanted Russia as North Sea Port's largest trading partner, the latter being affected by EU sanctions and falling to second on the list. The UK took third place, followed by Brazil, Canada, Sweden, Norway, Spain, Finland, with France rounding out the top ten.
Trade with Ukraine halved. As a result of companies' search for alternative markets, trade with Canada (+31 percent), Australia (+123 percent), Algeria (+42 percent) and Germany (+42 percent) increased sharply.
Daan Schalck, ceo of North Sea Port, said: "In these uncertain times, North Sea Port has posted its best year since the merger five years ago – partly because of the build-up of additional stocks, partly because of the increased supply of raw materials as industry maintains its activity levels."
He added: "With another record year, North Sea Port is cementing its position as the number 10 port in Europe. That's pretty remarkable after Brexit, two years of the pandemic, the impact of the Ukraine-Russia war and the energy crisis".
The port expects 2023 to be a "solid" year, with seaborne transhipments holding steady across the 12 months. It hopes that energy prices will fall, and investment to continue at a similar level.
North Sea Port was established when Zeeland Sea Ports (Vlissingen and Terneuzen, the Netherlands) and the port of Ghent (Belgium) merged their activities.