Marine engineering company Offshoretronic has developed the ADD-ON Support Tower concept for its wind turbine installation vessel.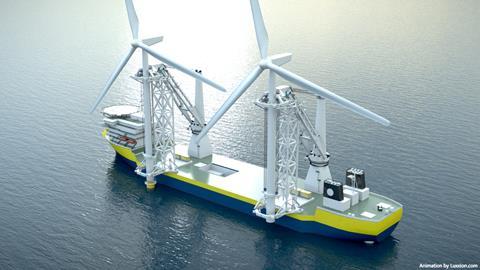 The modular ADD-ON Support Tower can be installed and removed using the vessel's own heavy lift mast cranes. According to Offshoretronic, the main function of the concept is to avoid any movements of the crane boom and to support the top and bottom gripper modules.
All weight of the turbine is supported on the lower support beam and the crane boom wires, giving additional load stability to the support tower; the lifting and lowering is executed by the mast crane main winches. The top and bottom grippers, as well as the lower support beam, will be able to move out or inboard during the turbine pickup and installation process.
The company added that with the ADD-ON, the same vessel unit can be used for the installation of all kinds of foundations, and for the transport and installation of build turbines.
With this concept, Offshoretronic hopes to develop a solution that is capable of transporting and installing two finished wind turbines with a capacity up to 11 MW in one single trip.
Listing the benefits of the new concept, Offshoretronic explained that there would be no need to hire high-specification jack-up vessels to complete installation works, as smaller and cheaper units can perform the final turbine blade installations. No jacking operations would also result in faster installation time.
Further still, the concept is based on reusing existing assets, resulting in less capital expenditure when compared to building new vessels, added Offshoretronic, which also noted the concept's ability to serve the floating wind farm segment.
The ADD-ON Support Tower has been designed in cooperation with Offshoretronic's preferred crane supplier Huisman Equipment, with the concept bearing some similarities with the manufacturer's wind turbine shuttle solution.