Time charter rates in the multipurpose shipping sector have continued rise over the course of last month, according to data from shipbroker Toepfer Transport.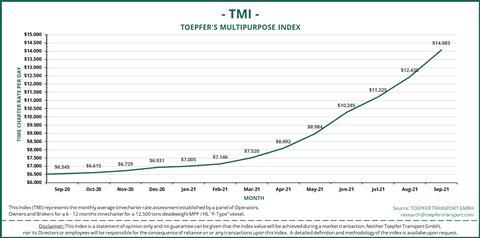 The average daily time charter rate for a 12,500 dwt/F-type heavy lift vessel hit USD 14,038 at the start of September, up 13.6 percent over the August 2021 daily rate. Year on year, rates are up 115.2 percent.
The brokerage said that shippers and forwarders have no choice but to book their cargoes well in advance to ensure delivery in a timely manner. It added that there have been complaints that some carriers stopped nominating which vessel will perform a voyage or refuse to give a laycan for cargoes except against a premium.
"The market is changing rapidly, but still it has to be pointed out that the current rate levels are required to sustain the costs of the inevitable fleet modernisation," Toepfer added.