The South Jersey Port Corporation (SJPC) closed out 2021 with an all-time record-breaking cargo volume of 4.6 million tons, a 54 percent increase over 2020.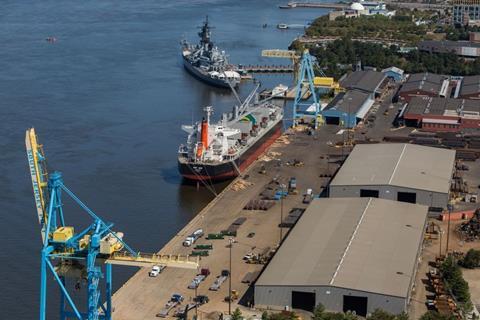 "That's the best in the history of the South Jersey Ports and we're expecting 2022 to be a very strong year that may top 2021," said Andy Saporito, executive director and ceo of SJPC.
The dramatic increases in tonnage came from nearly all the SJPC's prime cargo sectors: steel, plywood, recycled metals, cocoa beans, cement, and gypsum. Rebounding steel imports led the way with 2.4 million tons (xx tonnes), a 141 percent increase over 2020.
The majority of this increase occurred at the Paulsboro Marine Terminal, which moved 1.7 million tons of steel slabs.
Brendan Dugan, assistant executive director/director of business development, expects the cargo activity at South Jersey Ports to remain strong for the foreseeable future due to the national infrastructure plan and New Jersey's role in the USD109 billion offshore wind industry.
SJPC plans to be the epicentre of the market's developments. Work under way by EEW Group to transform the Paulsboro Marine Terminal into a hub for monopiles and the port authority is also conducting a study of the port of Salem, which is a smaller port just down river from Paulsboro, to become a supply base for the offshore wind support services industry.
Find out more about how SJPC is positioning itself at the heart of the sector's upswing in its white paper, which you can access here.
"The challenge is to build the infrastructure to grow the port while operating more efficiently to meet current demands," said Dugan. South Jersey Ports received a USD6 million grant to upgrade the rail infrastructure at one of their Camden terminals and a USD9 million grant for wharf infrastructure improvements at the Salem Terminal. "We identified an old building that we might refurbish to put another 40,000 sq ft (3,716.1 sq m) of storage space online and meet long-term customer demands."