China's state-owned ZPMC Group found itself on the losing side of a legal ruling in Hong Kong against its former joint venture partner Red Box Energy Services.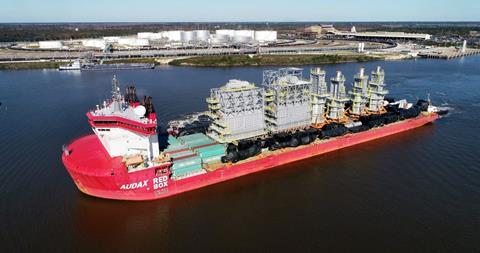 A Hong Kong High Court judge ruled against ZPMC as it challenged an earlier arbitration ruling that had gone the way of Red Box Energy Services.
The two players established a joint venture seven years ago – ZPMC-Red Box Energy Services – as the Chinese company aimed to break into the high-end heavy lift module transportation arena. Under the shareholder agreement, ZPMC would not go after multi-voyage, time charter tenders alone when suitable owned or chartered tonnage was available to the joint venture.
ZPMC-Red Box Energy Services purchased two ice-breaking 25,000 dwt PC-3 module carriers in 2016 – Audax and Pugnax – that were deployed initially at the Yamal LNG project in Russia. The waters soured, however, when ZPMC took a joint stake in GPO Heavy Lift during 2017.
According to Red Box, ZPMC offered GPO Heavy Lift-owned tonnage for three tenders against the ZPMC-Red Box joint venture. Red Box secured Shipping arbitration awards in November 2020 in Hong Kong stating that ZPMC was in breach of its shareholder agreement. The September 2021 ruling at the Hong Kong High Court supported that initial arbitration outcome.
Audax and Pugnax are now under the control of the now Singapore-based Red Box. In May 2021, CSSC (Hong Kong) Shipping – the leasing arm of China State Shipbuilding Corp – sold the two ships to Red Box at auction for roughly USD130 million. The ships were immediately sold back to CSSC shipping for USD130 million, and bareboat chartered by Red Box for three years for USD150 million, with an obligation to buy at the end of the charter period.