Wallenius Wilhelmsen Ocean (WW Ocean) has shipped a fully assembled 39 m-long drag conveyor from the port of Santander in Spain to Baltimore, USA onboard its ro-ro vessel Parsifal.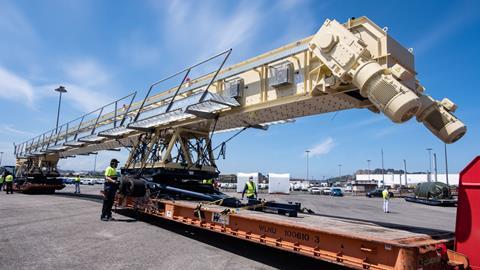 Spain-headquartered manufacturing company Intrame contracted WW Ocean for the shipment, which also included other parts of a dismantled asphalt plant.
WW Ocean placed multipurpose bogies on top of two 40 ft (12.2 m) roll trailers, which were then attached to both ends of the conveyor and simultaneously pushed and pulled by two tug masters to drive the cargo onto the vessel. The combination had a total length of 65 m.
WW Ocean said that transporting the drag conveyor fully assembled resulted in time and cost savings. Olga Romero, sales representative at WW Ocean, explained: "Shipping dismantled products and then assembling them at the final destination causes delays and incurs costs as that requires sending a construction team to oversee the mantling process.
"By working closely with the customer, our solution facilitates and accelerates assembly of the entire asphalt plant on arrival in the US and ensures Intrame's equipment is up and running as swiftly as possible."