London-based ship valuation company VesselsValue has reported that 275 cargo vessels were scrapped in the first half of 2021 – up 40 percent year-on-year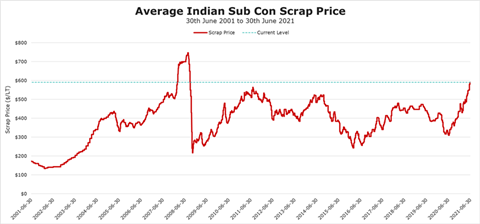 The vessels had a combined deadweight of 11.9 million with a total scrap value of 1 billion. Of the 275 vessels, 131 were tankers. High scrapping rates spurred on demolition, a trend that is expected to carry on through the rest of the year.
"The surge in scrapping prices has been fuelled by the ever-growing rise in steel price and demand. A demand catalysed by lockdown restrictions causing logistical issues for construction sites across the world," said Guy Cooper at VesselsValue.
The unprecedented earnings seen in H1 2021 for the bulker and container sectors saw owners capitalise in both the charter and sale and purchase markets, turning their back on the demolition market despite the lucrative scrapping prices. Tanker owners, however, were more tempted by the high scrapping prices, but still, the majority are choosing to cling onto older assets in the hope of a full market recovery.
Financial pressures forced upon the offshore sector due to Covid-19 has seen many owners scrapping their non-core assets. This is a result of pre agreed bankruptcy agreements which requires complete fleet reviews, Cooper added.
Average scrap prices in the Indian Subcontinent passed the previous 10-year high of USD560/lt in June 2021 and are closing in on a 13-year high of USD600/lt presently. If this growth rate continues then the 2008 all time high of 754 USD/lt will be reached by the end of the year.
Cooper noted: "Extreme scrap prices, costly new environmental regulations (sulphur cap, BWMS etc) and an ever-ageing fleet was the perfect blend to see scrapping numbers blown out of the water and some impressive records to be set. However, with containers and bulkers making so much money, and tankers having done so previously, owners are hanging onto their vessels despite the huge temptation from scrapping prices.
"If the steel demand continues to rally the demolition scrap price for shipping, then it is likely that scrapping numbers will increase throughout the year, especially if bulker and container rates begin to soften. The high steel price is positive for market fundamentals in oversupplied sectors as it encourages scrapping but bad for undersupplied sectors as it heightens new building prices."
In HLPFI's upcoming tugs and towage market report, operators and brokers state that the vessel scrapping sector has been a lucrative source of business in the past 12 months. To learn more, be sure to subscribe here.