Global Port Services, owned by Global Energy Group and Scotland's port of Nigg, has secured multiple contracts to support the Seagreen wind energy project off the coast of Angus.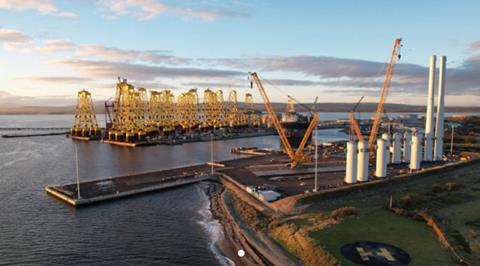 The contracts cover pre-assembly construction of wind turbine components at the Global Port Services facility at the port of Nigg. The announcement comes as the final turbine foundations for the wind farm arrive at Nigg to be prepared for installation at the wind farm site.
Global Port Services will provide project management and technical support, pre-assembly set up, crane and SPMT support and quayside services to assist Danish firms Vestas Offshore and BMS Heavy Lift, which are handling the onshore assembly and offshore installation.
It will be the first major infrastructure and pre-assembly contract of its type to be brought to the port since the unveiling of the new purpose-built East Quay in July. It offers 160,000 sq m of adjacent project areas comprising laydown, storage and assembly yards with dedicated warehousing and client project offices.
Alistair Gordon, executive officer for Global Port Services, said: "We are delighted to support yet another significant project for wind energy in Scotland, working with Seagreen, Vestas and BMS for the site enabling, storage, assembly and load out of these key components for what will be Scotland's largest offshore wind farm."
Seagreen is a joint venture between TotalEnergies and SSE Renewables. With a total installed generating capacity of 1,075 MW, the project is due to be fully operational in summer 2023.