The USA's Salem Marine Terminal is in line to receive a USD9 million grant from the US Department of Transportation (USDOT) to expand and improve its services.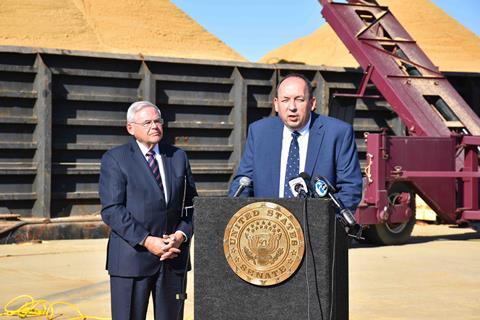 "The potential for the port of Salem to take on millions of dollars in new business is tremendous. But when opportunity comes knocking you have to be ready to open the door," said US Senator Bob Menendez. "That's why every penny we invest to upgrade the Salem Marine Terminal today is setting the stage for new business in the green energy space."
South Jersey Port Corporation (SJPC), which operates the port of Salem, will use the Infrastructure for Rebuilding America (INFRA) grant to expand its vessel capacity and intermodal rail connectivity. SJPC will rehabilitate 150 linear feet (45.7 m) of bulkhead and extend it to 400 ft (121.9 m). It will also dredge a new berth area and perform site preparation, improvements and refurbish a multimodal rail connection.
Menendez also highlighted the jobs and investment opportunities arising of the New Jersey Wind Port in Lower Alloways Creek, just 11 miles (17.7 km) from the port of Salem. New Jersey Wind Port will serve as a hub for staging, assembly and manufacturing activities related to offshore wind projects on the East Coast. The 200-acre (80.9-ha) port is expected to bring some USD500 million of economic activity to South Jersey.
He also drew attention to the manufacturing facility under construction at the Paulsboro Marine Terminal in Gloucester County that will manufacture monopiles for offshore wind turbines. The facility, which will be operated by EEW, will initially service the Ocean Wind project—a joint venture between Ørsted and PSEG—off the coast of New Jersey, before potentially supplying other offshore wind projects along the East Coast.