Spliethoff's newbuild vessel Bloemgracht has been launched from a dry dock at the Mawei shipyard in Fuzhou, China, and moved to an outfitting quay. Its sistership, Brouwersgracht, is a step ahead in the construction schedule and will soon begin sea trials.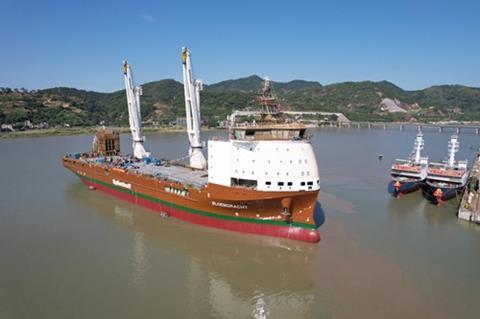 In order to supply large volumes and heavy cargoes directly offshore, Brouwersgracht and Bloemgracht combine the intake of a multipurpose vessel with DP2 capabilities. The 12,500 dwt vessels have an open top notation, two tweendeck levels and 5,900 sq m of total deck space.
Both are equipped with a removable, automated, pipe-handling gantry crane, installed to ensure efficient loading both on and offshore. Huisman 500-tonne capacity heavy lift mast cranes will allow the vessels to carry out both heavy lift transportation and offshore installation.
In addition, the energy efficient design of the vessels, with propulsion and power generation systems equipped with scrubbers and SCR systems, supports Spliethoff's continued commitment to sustainability.
The vessels are on schedule for their first commitments.