The Netherlands-based Spliefhoff Group has taken delivery of Brouwersgracht – the first of two DP2 B-type vessels – from the Mawei shipyard in China. Its sistership, Bloemgracht, is expected to be delivered in about three months' time.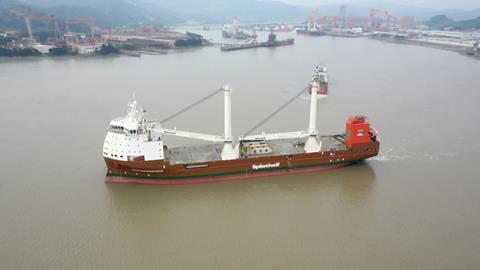 The 12,500 dwt vessels have an open top notation, two tweendeck levels and 5,900 sq m of total deck space. They are also equipped with two Huisman 500-tonne heavy lift mast cranes (HLMC), making them suitable for heavy lift transportation and offshore installation operations.
Brouwersgracht and Bloemgracht combine the intake of a multipurpose vessel with DP2 capabilities.
Last year, Bloemgracht was launched from the Mawei shipyard and moved to an outfitting dock, as HLPFI reported here.
Spliethoff said the two vessels are booked for their first pipe supply and offshore installation jobs until April 2024.
Both vessels will be technically and commercially operated by Spliethoff Group's companies, Spliethoff and BigLift Shipping.