Starclass Yacht Transport is working with Amasus Shipping to mobilise Eemslift Hendrika's sister ship Eemslift Nelli to maintain its yacht transport liner service between Bergen, Norway, and Istanbul, Turkey.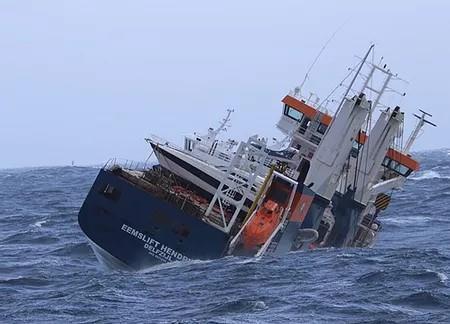 The original crew of Eemslift Hendrika, which ran into trouble in Norwegian waters last week, are back onboard to get the ship back into shape, said Starclass Yacht Transport founder Jan te Siepe.
He reflected: "When I started my company – Starclass Yacht Transport – in 1987, I was the captain of my own vessel. Back then I also experienced heavy storms and high waves, but I never experienced a situation like the Eemslift Hendrika did! When the first visuals of the Hendrika in distress started coming in, I could not believe my eyes. The images/clips of her struggling against the storm and high waves under the angle of 45 degrees were being broadcasted all over Europe. It was rough, to say the least. Our thoughts went out to the crew who were rescued by helicopter. It was clear the cargo (the boats) was exposed to the extreme forces of nature. For a long time we were not sure whether or not they would hold."
The deck cargo consisted of a motor yacht, sailing yacht, two smaller fishing catamarans and a 280-ton (254-tonne) boat used for salmon fishing. Below deck, another fishing catamaran was stowed. The ship was also loaded with four heavy machines that were booked as extra cargo.
Due to the storm, two of these machines broke loose and hit the ballast tank, said Starclass. This caused a major flood in the hold, which in turn, caused the Hendrika to lose her balance and start to list.
Te Siepe continued: "In the days that followed the wind did not ease down and the waves were still between 12 and 15 m high. In the meantime the last three crewmembers and the captain were taken off the ship. They programmed the autopilot to keep the Hendrika on course, hoping to save the ship and her cargo. But after a few hours the main engine gave in. The ship became adrift and it seemed she was losing her battle against these forces of nature. It was hard to stay positive and keep on hoping for a safe and positive ending."
The larger fishing boat had slid overboard, taking the crane arm and the chains that had kept it in place with it. The boat had floated close to Eemslift Hendrik with hardly any damage, said Starclass. The company added that the boat owner organised a salvage company to tow the unit to the port of Floro.
"During all of this we were in close contact with the owner who is relieved, impressed, and happy that it turned out this way after all… It is incredible that, except for the fishing boat, the rest of the cargo endured these extreme circumstances successfully," said te Siepe. "The whole crew, led by our loadmaster, did an excellent job regarding lashing the yachts!"
Meanwhile, the tugboats arrived to salvage Eemslift Hendrika. At this point, the ship had been adrift for over 48 hours. Te Siepe continued: "We were extremely relieved when we received confirmation that the connection of the lines were made and she was being towed. To stabilise her, the hold was emptied by use of pumps on route to the port of Alesund."
He added: "We are grateful and relieved that the crew and cargo made it all in good health and that it ended the way it did."