Construction of the final two vessels in Stena Line's E-Flexer newbuild ro-pax series has begun at the CMI Jinling Weihai Shipyard in China.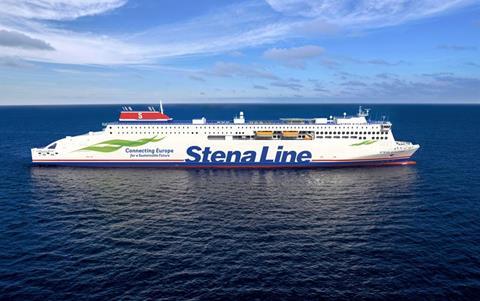 The last two ships are scheduled for delivery in 2022 and will be larger than the three other ships in the series; they will have an additional 15 percent cargo capacity, measure 240 m long and will have a load capacity of 3,600 lane metres.
Stena Line's E-Flexer series has been designed and built in collaboration with its sister company Stena RoRo. Two ships in the series have already been delivered – Stena Estrid and Stena Edda – and have entered service on the Irish Sea.
The third vessel, Stena Embla, is in the final stages of construction and is expected to enter into the company's Belfast-Liverpool service in early 2021.
The ships are 30 percent more energy efficient than existing vessels in the fleet, said Stena. The two longer vessels will be equipped to use shore power during port calls to reduce emissions.
In addition to the five newbuilds another two existing vessels in the fleet, Stena Lagan and Stena Mersey, will be extended by 36 m and modified with efficient drive-through capabilities for loading and unloading in two levels. In total the modifications will increase the cargo capacity by 30 percent.
The two vessels are expected to return to Stena Line's network in 2021.