Höegh Autoliners reported its strongest quarterly financial results to date in the last quarter of 2022, with operating profit (EBITDA) up 37 percent from the previous quarter to hit USD156 million.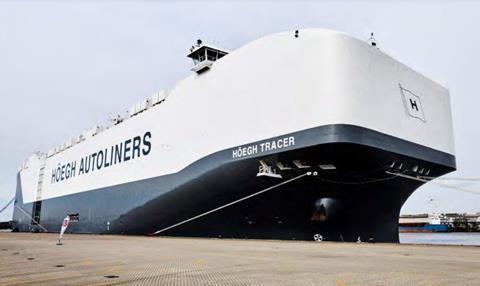 Net profit after tax for Q4 was USD118 million, up 28 percent quarter on quarter.
Volume development was flat, said Höegh, while net rate increased to a new high level of USD68.3 per cu m (up 9 percent quarter on quarter). Net rate improvement was a result of continuous repricing of contract volumes and a strong spot market, it said.
During the fourth quarter of 2022, the company declared purchase option for two vessels currently on bareboat charter: Höegh Trapper and Höegh St. Petersburg for USD53.2 million and USD29.7 million respectively. Ownership of Höegh St. Petersburg was transferred in December 2022, and the company expects to take delivery of Höegh Trapper during the second quarter of 2023.
Andreas Enger, ceo of Höegh, said: "We are proud to wrap up 2022 with a very strong fourth quarter and increase dividends to shareholders to a new high level. The strong financial results further strengthen Höegh Autoliners' leading position in the sector."
He also pointed out the company's green credentials, noting that "according to the 2022 IMO standard, around 50 percent of our fleet received a CII score of A or B". He said: "As we continue sailing for sustainability, the future looks both bright and green for Höegh Autoliners."
Looking ahead, the company expects the general market for transportation of cars and high and heavy/breakbulk cargo to be strong in 2023. Very few newbuilds will be delivered and the general expectation is that deepsea transport volumes will increase compared to 2022.
It is, however, closely monitoring the global macroeconomic landscape, with particular attention to the protentional of a global recession. This, Höegh said, could negatively impact the demand for its services.