The average daily multipurpose time charter rate for a 12,500 dwt/F-type heavy lift vessel, according to Toepfer Transport, hit USD18,973 in early December.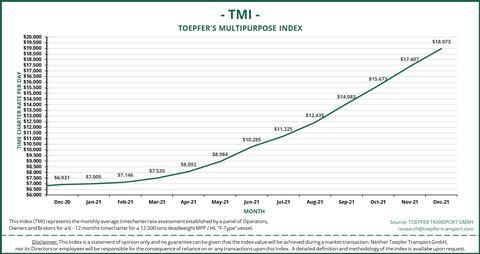 In November, the rate stood at USD17,407. The latest figure is an increase of 173.73 percent compared to December 2020's USD6,931.
The high demand for multipurpose tonnage continues, said Toepfer, which added that the upcoming holiday season is unlikely to have any drag on the market. Time charter contracts are being fixed well in advance with only very few spot market opportunities.
Securing vessel space is the focus of most carriers, which are now looking at longer charter periods of three years and above for the standard multipurpose types.
There is very low activity in the orderbook. While many owners are hunting for newbuilding slots, the limited number of shipyards willing to look into building multipurpose vessels is the main bottleneck at the moment. The prices for both newbuildings and second-hand tonnage are stable at high levels.