Universal Africa Lines (UAL), which specialises in serving West Africa, has added the 12,700 dwt multipurpose vessel UAL Manitoba to its fleet.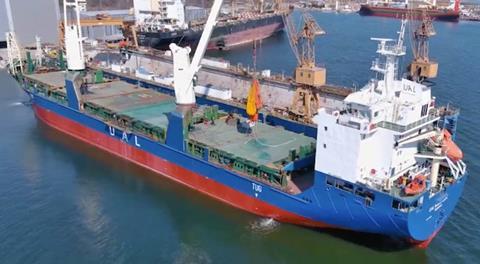 The multipurpose UAL Manitoba has three box shaped holds and is equipped two 120-tonne cranes that can be combined to have a maximum lifting capacity of 240 tonnes.
"2021 was a challenging year with the global pandemic but also with the extreme challenges in our domain, worldwide shipping," said Harald Maas, director of UAL Netherlands. "Due to the current strain on global tonnage and new oil and gas markets such as Senegal, Ivory Coast and Mozambique to name a few, the logical step for us was to invest in additional vessels.
"With our chartering desk in Denmark, we are also further developing the Mediterranean – more reason to add this new lady to our fleet, to be able to meet the expectations of our esteemed clients."
Project Cargo Africa
In HLPFI's latest Project Cargo Africa report, which will be available to view online next week, Maas pointed out that many multipurpose vessels have been withdrawn from Africa and moved to the Far East. "This has placed a strain on our services because these are vessels we would normally charter," he explained. At the same time, demand for capacity has increased. "Our rates have gone up because it costs more to charter extra vessels," Maas said.
While he expects the region's project business to continue growing this year, he highlighted ongoing issues surrounding piracy in the Gulf of Guinea. "When ships are available, they don't want to go to West Africa: they'd rather go somewhere else where there are no problems with piracy, especially with demand so high globally," he said, which puts extra pressure on already-tight capacity.
When vessels cross zones where piracy is a risk, additional insurance coverage is needed and armed guards must escort the vessel to the entrance of the zone, remaining on board until the ship enters safer waters.
"Piracy in the Gulf affects us big time," Maas said. "We've put in place additional safety measures and additional routeings. Not only is security a huge cost factor, it's also awful for the ships' crews."