Five years after bringing the world's first dual-fuel LNG pure car and truck carriers (PCTCs) Auto Eco and Auto Energy into service, United European Car Carriers (UECC) said it is reaping the fruits of its efforts to reduce emissions.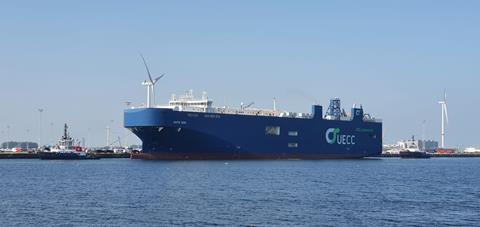 Auto Eco and Auto Energy, according to UECC, are already compliant with the IMO's goal to cut carbon intensity from shipping by 40 percent by 2030 due to significant reductions in CO2 and NOX emissions, and their effective elimination of sulphur oxide and particulate emissions.
With the delivery of three newbuild LNG battery hybrid PCTCs – the first of which, Autosky, is due to be delivered next month – UECC will have five eco-friendly ships in its nine-vessel owned fleet.
Glenn Edvardsen, UECC chief executive, said the trio of hybrid newbuilds will give "a big leap" in environmental performance due to an advanced energy management system to achieve fuel savings through peak shaving, as well as a more optimised hull design, for further emissions cuts.
As well as newbuilds, UECC is looking at ways to cut emissions from its existing fleet using available alternative fuels, notably biofuel on the Autosky. Earlier this year, UECC reported a 58 percent reduction in carbon intensity on Autosky, following one year of trialling GoodFuels' biofuel oil on the vessel, which HLPFI reported here.
Energy and sustainability manager Daniel Gent said Autosky is running carbon neutrally already and UECC is set to secure biofuel for the whole of next year for the vessel, while also looking to extend the use of the fuel to other vessels based on possible trial cargoes backed by customers.
However, UECC said it is still seeing a lack of understanding in the market of the long-term value of 'green logistics'.
"Money still talks loudest in the shipping industry and unfortunately the freight rate remains the overriding factor for many of the car manufacturers when selecting a cargo carrier, regardless of the environmental footprint of the logistics solutions," Edvardsen said.
Ultimately though, Edvardsen added, customers must also take their environmental responsibility seriously and "walk the talk" by accepting a premium for green logistics - or pay a higher price farther down the road due to reputational risk in a greener world.