UECC has taken delivery of its third and final newbuild multi-fuel LNG battery-hybrid pure car and truck carrier (PCTC).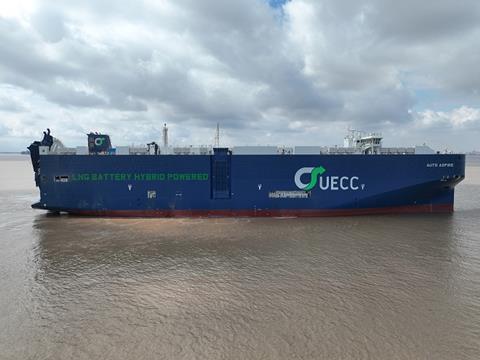 The latest newbuild – to be named Auto Aspire – was delivered at China's Jiangnan Shipyard and will soon join sister vessels Auto Advance and Auto Achieve on trade routes in Northern Europe.
"This significant delivery marks the realisation of our ambition conceived a decade ago to bring to the European shortsea market a new breed of advanced low-carbon vessels able to deliver on demands for energy efficiency under a green shipping regime," said UECC's ceo, Glenn Edvardsen.
"This has been achieved through a process of innovation whereby a new technological solution has been developed together with Jiangnan's in-house ship design team to give substantial gains in terms of emissions reductions."
With delivery of the latest vessel, UECC now has five eco-friendly PCTCs out of its current fleet of 9 owned vessels plus 7 chartered units.
"Imminent regulatory changes are shifting the market landscape in favour of green-focused players and these newbuilds represent timely and sizeable investments that offer our clients a sustainable shipping solution with both environmental and cost benefits," added Edvardsen.
Costs for shipowners using conventional marine fuels are set to rise with the implementation from January 1, 2023, of the Energy Tax Directive that will impose a hefty tax on fossil fuels supplied in the European Economic Area.
Furthermore, the proposed extension of the EU's Emissions Trading System (ETS) to shipping, set to take effect from 2024, will require pollutive ship operators to purchase costly carbon allowances that could increase the cost of consuming fossil fuels by as much as 50 percent based on current carbon pricing, according to UECC's energy and sustainability manager Daniel Gent.
In addition, new regulatory constraints on ship emissions are coming with the IMO's Carbon Intensity Indicator (CII), which takes effect from next year, and FuelEU Maritime, due to be introduced in 2025. Both measures will require a progressive reduction in carbon intensity from ship operations either from speed reduction or switching to alternative fuels.