United European Car Carriers (UECC) has launched the third and final newbuild in its series of dual-fuel LNG battery-hybrid pure car and truck carriers (PCTC) at China's Jiangnan shipyard.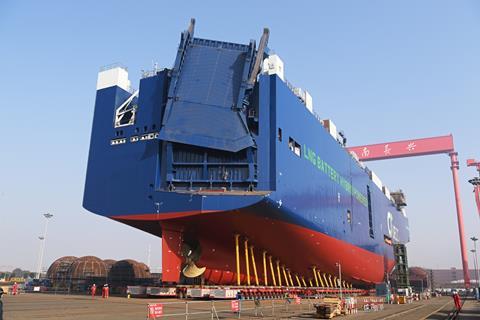 The launch of hull number H2665 comes just seven months after the keel-laying ceremony for the vessel. It follows the final delivery of the first newbuild in the series named Auto Advance. The second and third vessels will be delivered in the first half of this year.
"We are rapidly building up our low-emission fleet to become the leading eco-friendly shortsea carrier in Europe through the addition of these newbuilds that will, alongside the use of alternative fuels on our existing vessels, drastically reduce UECC's environmental footprint," said chief executive Glenn Edvardsen.
The use of battery-hybrid technology, combined with a dual-fuel solution, on the latest newbuilds will enable these vessels to exceed the IMO's goal to cut carbon intensity by 40 percent within 2030 compared with 2008 levels.
Emissions of carbon dioxide will be reduced by around 25 percent, SOx and particulate matter by 90 percent and NOx by 85 percent from the use of LNG, while the newbuilds will also meet the IMO's Tier 3 NOx emissions limitations for the North Sea and Baltic Sea.