Vallianz, Ulstein Design & Solutions, Shift Clean Energy, and Bureau Veritas will collaborate on the design and construction of a DP2 hybrid-propulsion heavy transport vessel.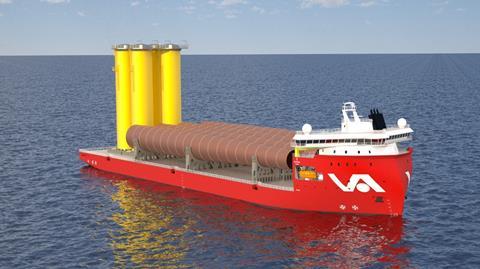 The heavy transport vessel is designed to move monopiles, jackets, transition pieces and turbine blades for offshore wind farm projects. It is also suitable for LNG module transport, as well as floatover operations offshore.
It will be powered with a hybrid power system consisting of alternative dual-fuelled engines and a battery-energy storage system. The vessel also features Ulstein's X-bow, which contributes to reduced energy consumption and provides more comfortable and safer operations when sailing through waves.
The vessel boasts a free deck length measuring 145 m in length, with a surface area of more than 6,000 sq m. The deck strength will stand at 25 tonnes per sq m. It is capable of handling loads up to 32,000 tonnes.
The ship's battery system will be supplied by Canadian outfit Shift. The ship will be classed by Bureau Veritas. Construction is expected to take up to 26 months with planned completion by the end of 2024
"In view of the anticipated increase in the size of monopiles and other components for offshore wind farms over the coming years, we believe there will be growing demand for newer generation vessels like our heavy transport vessel which can help to facilitate faster installation speed, better project economics and reduction of carbon footprint. The addition of this heavy transport vessel will also complement and expand on the group's existing 'Holmen' fleet of heavy lift transport vessels," said Osman Ibrahim, chairman of Vallianz.
"Since 2010, offshore wind has been a focus market for Ulstein," added Cathrine Marti, ceo of Ulstein Group. "With our track record in service operation vessels, heavy lift vessels and rock installation vessels, we have built up a strong position as a ship designer supporting offshore wind installation and maintenance. This agreement with Vallianz is an important step for us, as it is in line with our strategy to expand into vessels supporting offshore wind logistics."