Offshore wind turbine tower manufacturer Valmont and Port Esbjerg in Denmark have entered into an agreement to consider the construction of a factory at the port.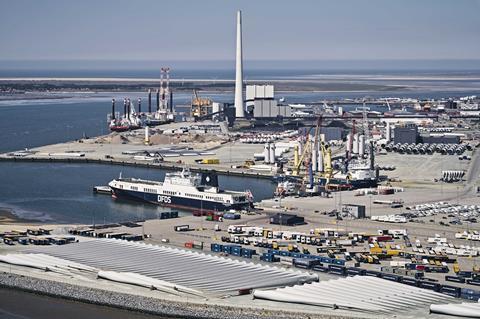 "The attractive location at the harbour will give us a competitive edge," said Niels Brix, ceo of Valmont. "The port of Esbjerg is a leading hub for offshore wind in Denmark and Europe, and we expect the market to grow strongly in the years ahead. Via Esbjerg, we'll get access to the markets in the UK, Germany and the Netherlands. In addition, the port has an efficient infrastructure that has attracted many other businesses as well, including service providers."
Port Esbjerg will be in charge of the construction of the new factory, which is scheduled for completion in late 2023.
According to Flemming Enevoldsen, chairman of Port Esbjerg, the tower factory partnership is the result of targeted efforts to attract the production of wind turbine components to the port of Esbjerg. "It's something we've been working on for quite some time, and the timing is perfect now. The deal is also in line with our ambition to be a key contributor to Denmark's green transition and exports, as we've been for the past several years."
The new factory is part of an overall plan to invest in green infrastructure at the port of Esbjerg in order to ensure that it continues to have sufficient capacity to handle the growing demand for offshore wind components.
Dennis Jul Pedersen, ceo of Port Esbjerg, explained: "We're currently seeing an increase in the level of activity, and the agreement matches perfectly with our plans to contribute to the massive development of offshore wind power over the next few decades."