Volga-Dnepr Airlines has delivered over 95 tons (86.2 tonnes) of medical supplies onboard an AN-124-100 aircraft from Leipzig/Halle airport in Germany to Windhoek in Namibia.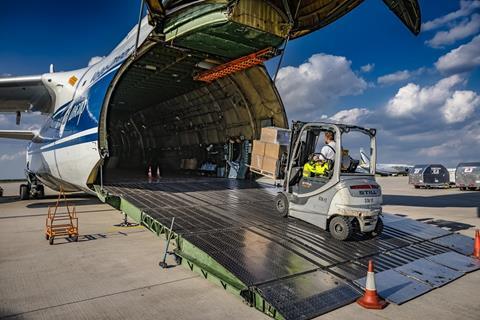 The cargoes included masks and respirators, which Volga-Dnepr explained were urgently needed to fight against Covid-19 in the country.
Volga-Dnepr delivered the equipment on behalf of the European Civil Protection and Humanitarian Aid Office (ECHO).
The delivery follows Volga-Dnepr's decision to sign a memorandum of understanding (MoU) with Leipzig/Halle to set up an emergency logistics/humanitarian hub at the German airport. The agreement was signed earlier this year, as HLPFI reported here.
Yulia Celetaria, global healthcare director for Volga-Dnepr Group, said: "Not only do these flights demonstrate our commitment toward the humanitarian sector but also come as a logical step for further development of long-lasting strategic cooperation between LEJ [Leipzig/Halle airport] and Volga-Dnepr Group."