Volga Shipping Company and Volgo-Baltic Logistic have completed the delivery of wind farm components to Kazakhstan, on behalf of ISS Global Solutions.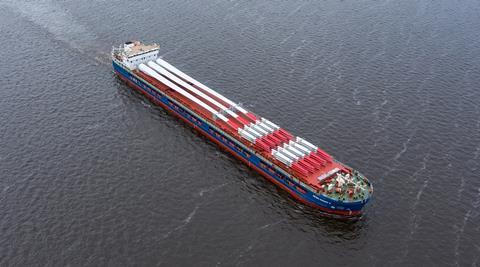 Wind turbine generators were shipped from the German port of Brake, while the blades were transported from the Polish port of Świnoujście. Over 6,300 cu m of cargo, including 66.4 m-long blades, was delivered to the port of Aktau in Kazakhstan.
Volga Shipping Company said: "In view of the customer needs, a sea-going ship with an optimal tonnage was chosen to ensure the most functional allocation of cargo, taking into consideration useful capacity of cargo holds. That approach allowed for reduction of cargo owner's transport costs per cargo unit."
As part of the package of services, specialists of Volga Shipping Company and Digital Marine Technologies developed a solution for securing the oversize equipment on the ship.