Wallenius SOL's multi-fuel ro-ro vessel has been launched at the CIMC Raffles shipyard in Yantai, China.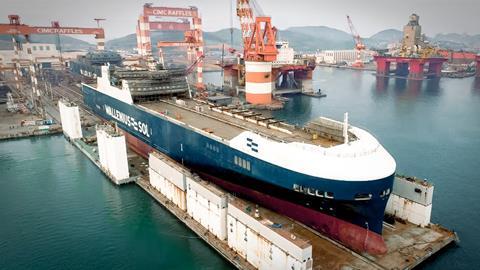 The ship measures 242 m long and, according to Wallenius SOL, is specially designed to meet the harsh winter conditions in the Gulf of Bothnia.
In addition to conventional ro-ro capabilities, the vessel will have a large container capacity. Wallenius SOL said the vessel will be significantly more energy efficient per transported tonne of cargo than other types of ships, while also reducing greenhouse gas emissions by 63 percent.
Due to the length of the vessel, Wallenius SOL said a special solution was required to float the vessel. This involved two barges being joined together. The ship was winched slowly over 300 m from the build site, before being placed on the submersible barges. There, the vessel remained in place whilst retouches to the paintwork were made, before being lowered into the water.
Earlier this year, Wallenius SOL expanded its fleet with a sixth vessel – Transfighter. Wallenius SOL said this was a way to build volume to meet increased demand, while waiting for the new LNG-powered ro-ro vessels to be delivered at the end of the year.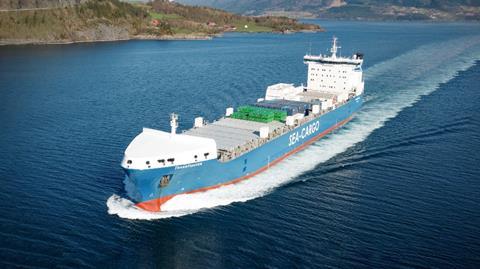 The vessel was deployed on its bi-weekly service on the Oulu – Kokkola – Antwerp – Zeebrugge route, as well as calling at the loading port of Rauma.
Jonas Wåhlin, general manager at Wallenius SOL, said: "In this way, we continue to strengthen our presence in the Gulf of Bothnia, we increase our total capacity and we enable continued growth in the container market."