Royal Wagenborg's multipurpose vessel Roerborg has delivered wind energy components to the USA's Duluth Cargo Connect.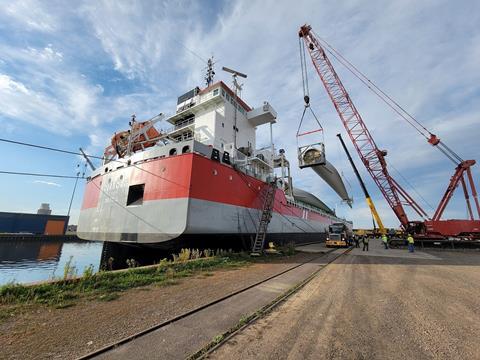 The vessel arrived at North America's furthest inland seaport from Europe. The shipment included 80 m-long wind turbine blades, which ranked as the longest blades ever handled in the port of Duluth-Superior.
Stevedores from Duluth Cargo Connect moved the blades from ship to shore for overland transport for the final leg of their journey.
HLPFI spoke with Duluth for the annual ports and terminals supplement. The port said that while it is not projecting a record-breaking season for wind energy cargo – following record seasons in 2019 and 2020 – volumes are steady.
Jonathan Lamb, president of Duluth Cargo Connect, said: "We are currently experiencing one of our more average seasons for project cargo – not our busiest year, but certainly not our slowest, either. While the flow of wind cargo is lighter this year compared to some other seasons, we are seeing a nice volume of other power generation equipment and heavy machinery for industrial projects."
"Looking into 2023," Lamb continued, "we expect the wind energy activity to pick up further and we are already seeing plans for other larger industrial projects on the horizon. Of course, project cargo schedules can be impacted if manufacturing facilities are behind schedule and that can sometimes push the actual freight movements back some months, as was the case in 2020. As everyone intently watches other challenges play out in the global supply chain with concerns of recession and instability in Eastern Europe, for example, more scheduling changes will likely emerge. As is always the case in our business, having the flexibility to adjust will remain imperative."
You can read more about the cargoes that have been arriving in Duluth and some of the port's recent infrastructure investments here.