Windship Technology has unveiled what it claims to be the first "true zero emission" ship design.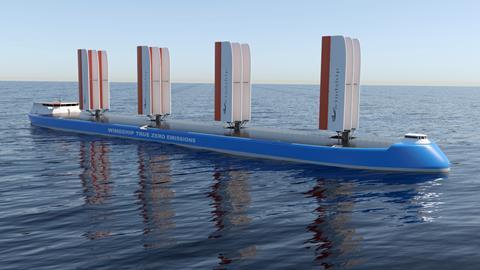 The design comprises a triple-wing rig; a diesel-electric ship drive system that eliminates CO2, NOx, Sox and particulate matter; large solar arrays; optimised hull shapes; and specialised weather routing software.
The 48 m Windship Technology rig is stowable on deck. Its composite structure is borne out of technology and designs from the wind turbine industry, ensuring reliability and longevity of greater than 25 years, said the designer.
Professor Philip Wilson, formerly professor of ship dynamics at the Ship Science Department at the University of Southampton, said: "The holistic approach demonstrated in this solution whereby wind power, solar power and the reduction of harmful exhaust emissions to effectively zero, are all brought together, means that at last there is a design solution that the International Maritime Organization (IMO) can champion to achieve its requirements for 'at least' zero carbon shipping."
Windship Technology is now working with DNV GL, which will assess the design with a view to classifying emission reductions, safety and operability.
DNV's senior vice president, Per Marius Berrefjord, said: "We will work closely with the project team in a fully transparent manner as we now initiate the work to establish a simulation model that will help us verify the GHG emission reduction capability of the technology. We are also preparing for a hazard identification study that shall verify the safety and operability of ships with Windship Technology installed. These activities will be followed by further verification activities as the project moves forward."