Wallenius Wilhelmsen Ocean's (WW Ocean) liner service from Dalian port in northeast China to North America, which was launched in October, is providing welcome capacity for shippers.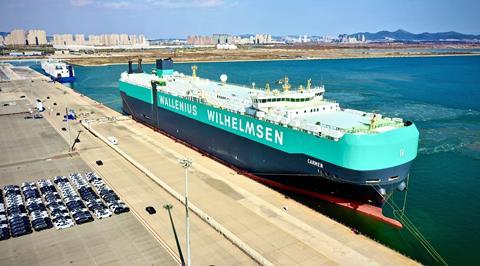 The carrier's Asia to North America service already called at Shanghai and Port Yantai in China. The addition of Dalian offers more opportunities for customers looking for cost-efficient and reliable solutions for shipping their products to key markets in the USA and other destinations.
The service operates two times per month and cargoes can be transhipped to US West Coast destinations. "For those looking to ship products to Europe and South America, this trade lane will open up further opportunity in the future on top of Tianjin as a port of loading offering a transhipment service from Masan [South Korea]," WW Ocean added.
"The opening of the Dalian to North America route is of great significance," said JS Kim, vice president sales China. "It presents new business opportunities in North China which will add value for exports from the northeast and northern China. Customers will have more options with shorter waiting time and more frequent services to bring efficiency into their global supply chain network."