Industry analyst Drewry reports that charter rates for multipurpose ships, including breakbulk and heavy lift vessels, are unlikely to recover back to pre-Covid-19 levels until the end of 2021. Any recovery would take even longer if the global pandemic is not contained.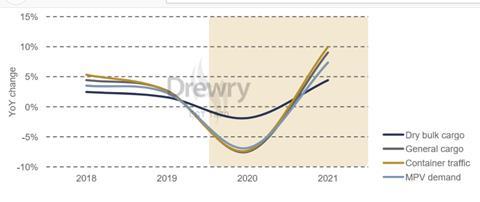 Drewry's dry cargo demand forecast through until late 2021
Drewry's latest Multipurpose Forecaster report includes a base case forecast, plus two worsening scenarios based on the containment on Covid-19.
The multipurpose and heavy lift sector sits between the container and dry bulk shipping segments and, as such, is subject to the market changes from each of these. "It is our opinion that the influence of these competing sectors has as much of an effect on the multipurpose charter market as the pure economics of supply and demand. In our report we look at all the factors affecting the market," said Susan Oatway, senior analyst multipurpose and breakbulk shipping.
"Our base case is that Covid-19 is contained globally over the next few months and there is no second wave. This allows the global economy and dry cargo demand to rebound in 2021," said Oatway. "We then present a set of scenarios with worsening outlooks dependent on a series of caveats, which include further recessions for the global economy and longer-term damage to demand, causing a longer downturn in the freight market. Our base case is still the most likely but there is growing concern that a second Covid-19 wave could arise, giving our other scenarios increasing probability."
In its base case forecast, Drewry said that the global economy would record a sharp recession over the year with latest assumptions for global GDP at -5 percent when compared to 2019. Thereafter, a V-shaped economic recovery for 2021 puts global GDP up 6.5 percent, with weakening but positive growth for the longer term.
In this scenario, dry cargo demand as a whole is expected to decrease by some 4.5 percent this year compared to 2019 as container port handling and steel production, and the associated imports and exports, collapse due to the twin effects of Covid-19 and lower crude oil prices. A return to positive growth would be swift as countries come out of lockdown, manufacturing activity resumes and business sentiment improves, said Drewry.
Drewry suggests that this rebound has already started to happen. Still, its best-case predication for this year is a decrease in multipurpose shipping demand of almost 7 percent this year, with demand rebounding 7.4 percent in 2021.
"The concern now is when (or possibly if) a second wave might hit and for that we have developed two alternate scenarios," said Oatway.
Scenario A is Drewry's next-best case prediction, which assumes that Covid-19 is contained over Q3 2020 but then a second wave occurs during 2021.
"Drewry has based scenario A on the assumption that a new outbreak in 2021 will reduce any pent-up demand as further lockdowns will come into force on a wider scale. This will mean the ongoing global recession will weaken longer term demand and, for the short-term, the V-shaped recovery will be much shallower. This in turn will limit the return to growth of container port throughput and is likely to stall crude steel production and manufacturing activity," said the analyst.
As the uncertainty around this second wave grows, Drewry believes that demand for multipurpose shipping in 2020 will remain significantly below 2019 levels and 2021 could see growth of less than 3 percent.
Scenario B considers the impacts of a longer outbreak in 2020 plus a second wave in 2021 – the worst-case scenario. In this context, Oatway said: "General cargo levels are expected to sink to unprecedented lows as manufacturing production and business confidence fail on all sides. The effect on multipurpose demand is devastating as recovery is stalled and competition from other sectors will remain high. Whilst we give this scenario our lowest probability value, we do believe it is worth considering for the full picture."