With Covid-19 impacting demand for cargo-carrying capacity globally, Wallenius Wilhelmsen has taken steps to reduce the overcapacity in its fleet and temporarily taken ten vessels out of service.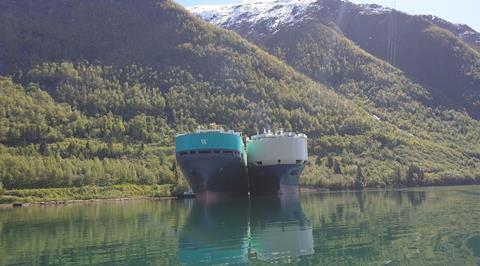 Out of Wallenius Wilhelmsen's fleet of 123 vessels, seven ships have been placed in cold lay up in Norway and three in Malaysia. The shipping company has also recycled four ships, redelivered seven chartered vessels and is considering whether an additional ten vessels could be laid up.
Captain Filip Svensson, marine operations management at Wallenius Wilhelmsen, explained that the vessels are at anchor in a secure harbour with no crew aboard, reducing manning costs.
"The community at the harbour, which often includes ex-seafarers, looks after the vessel, performing regular inspection and maintenance, making sure rotating equipment is functioning, and that mooring lines and anchors are okay," he added.
In Norway, the ships are located in the fjords where they are protected from bad weather and storms; in Malaysia, Wallenius Wilhelmsen has chosen areas where there are unlikely to be typhoons.
"We have also chosen locations where we know trade will pick up again once things get back to normal," said Svensson. "Southeast Asia and Europe are our preferred locations because we are sure cargo will start up on these routes again, from Asia to Europe and from Europe to Asia."
According to Svensson, Wallenius Wilhelmsen is still experiencing issues in the supply chain due to the closure of borders. "Manufacturing is a global industry and our customers' supply chains have been disrupted. Things are improving day by day, however, and we would hope to be able to bring the vessels back into service in the near future."
Once trade picks up, Svensson said that it would take three to four weeks to restart the vessels that are in cold lay up.