Dryad Global reports that pirates boarded the heavy transport vessel Zhen Hua 7 off the coast of Sao Tome in the Gulf of Guinea.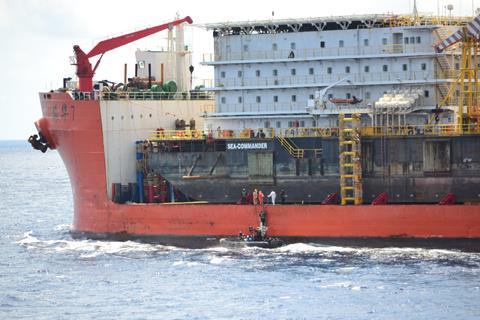 Zhen Hua 7 is understood to have had a crew of 27. Unconfirmed reports suggest that 14 seafarers have been kidnapped.
The merchant vessel is presently inbound for Sao Tome escorted by the Italian Naval vessel Frederico Martiningo.
A security update published by Praesdium International states that the Italian Navy frigate intervened to rescue the merchant vessel. The Italian Navy said that the pirates have escaped; one seafarer has been airlifted to hospital in the nearby town of Sao Tome having suffered a gunshot wound to the leg. The injured seafarer is in a stable condition.
Shanghai Zhenhua Heavy Industries (ZPMC) operates Zhen Hua 7. HLPFI will update this story when more details become available.
w