Our finalists for the 2020 Airfreight Solution of the Year award, sponsored by Sarens, have executed outstanding project cargo shipments by air in the last 12 months.
This award could be entered by an airline, broker, forwarder, or as a combined entry from partners on a specific project.
This year, there were a number of entries that clearly demonstrated the timely delivery of a complex project; safe and efficient loading procedures; as well as a thorough knowledge of the challenges involved in the movement of project cargo by air.
Our shortlist for the Airfreight Solution of the Year for the Heavy Lift Awards 2020:
Air Canada Cargo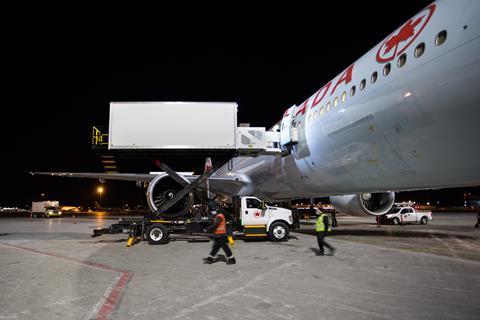 As the Covid-19 pandemic caused unprecedented restrictions on air cargo capacity, Air Canada's rapid response to reconfigure the cabins of its Boeing 777-300ER – the largest aircraft in its fleet – ensured that medical projects and personal protective equipment (PPE) could be transported. Within six days, the company's cross-functional engineering, procedures, regulatory, and safety teams completed the necessary physical work in the aircraft cabins, which included the removal of passenger seats, and developed extensive plans to safely and efficiently manage cargo-only operations on these aircraft. Air Canada Cargo's Master Operating Plan and detailed, customised processes were shared with Transport Canada to support the development of national guidance material.
In Montreal, the Air Canada Cargo team was particularly resourceful and used a Passenger Transfer Vehicle (PTV) to unload the aircraft.
Blue Water Shipping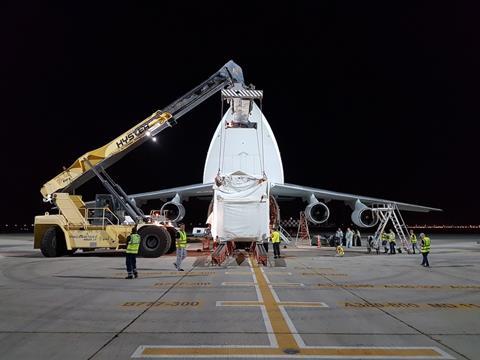 Tasked with the transport of the world's first Siemens SGT-A45 mobile turbine to Afghanistan, Blue Water Shipping executed a complex airfreight solution that saw a total of five AN 124-100 freighter flights – one from Turkey and four from Dubai World Central Airport – deliver the turbine and transformer unit to Mazar-e-Sharif. The shipment had a total volume of 2,000 cu m and tipped the scales at 430 tonnes; it was split into three units – generator trailer, gas turbine and power control module – of which the largest measured 30 m and weighed approximately 92 tonnes.
It was the first ever mobile power plant of its kind to be transported by airfreight, and a monumental undertaking that formed part of the vital mission to rebuild Afghanistan's domestic energy industry.
Chapman Freeborn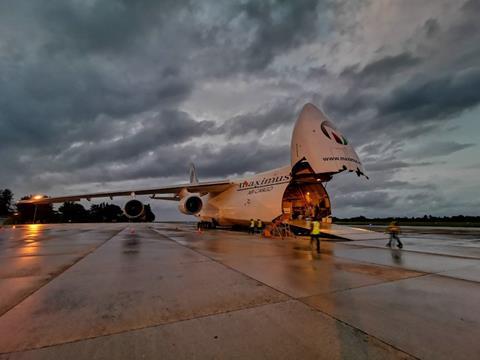 In 2019, Chapman Freeborn chartered the Antonov AN-124 aircraft to transport a magnetic resonance imaging (MRI) machine, which will be used for a hospital expansion project, and 166 other essential components from Maktoum International Airport in Dubai to a remote Maldives atoll – the first time an AN-124 had touched down at Gan International Airport and the first MRI machine in the region.
Thanks to the experience of the Chapman Freeborn air cargo team, the company was able to provide an economical solution. Representatives from the team travelled onboard the AN-124 to ensure the smooth unloading, which even meant procuring forklifts from the seaport to assist the process.
deugro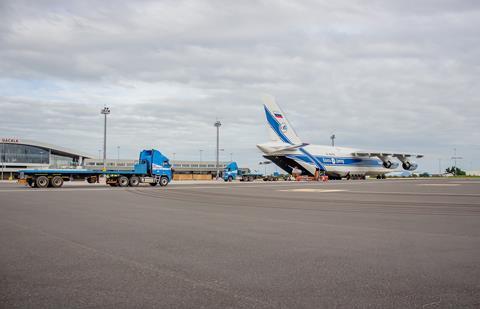 deugro's air cargo expertise was called upon to transport over 140 tonnes of urgent oil and gas cargo from Houston, USA to Mozambique. The tight time schedule, the long distance and the infrastructure conditions at Nacala Airport were some of the challenges deugro faced during this demanding project.
deugro developed a tailor-made solution that involved two of the world's biggest freighter aircrafts – the AN-124 and a Boeing 747 – as well as transloading in Johannesburg, South Africa to deliver components in just eight and a half days. The combination of routes and aircraft types resulted in a reduction of transportation costs all while meeting tight deadlines at minimum risk.
Jeena and Company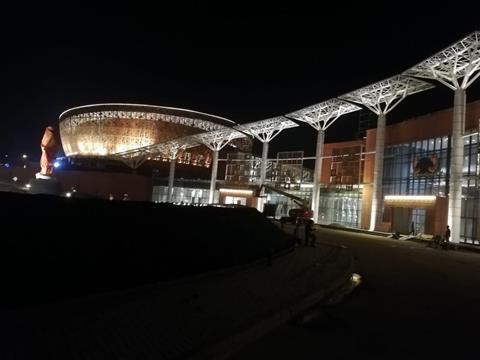 On behalf of the Shapoorji Pallonji Group, Jeena executed a total of 14 charters – originating from Ahmedabad, Delhi and Mumbai in India – to transport more than 800 tons (725.7 tonnes) of equipment for the construction of the Mahatma Gandhi Convention Centre in Niger.
Prior to Jeena's involvement, the project ran into delays and so the company's airfreight team was tasked with suggesting the most suitable type of aircraft that could handle the complex movements and deliver the cargoes on time.
Using AN-124, Boeing 747 and 777 aircraft, Jeena consolidated the cargo, arranged packaging solutions, Customs clearance services and coordinated with all stakeholders to overcome several challenges and deliver the equipment between April and June 2019.
The winner of this year's Airfreight Solution of the Year award will be announced in October.
Find out more: www.heavyliftawards.com



Sarens' mission is to be the reference point in crane rental services, heavy lifting, and engineered transport. With state of the art equipment and value engineering, the company offers creative and intelligent solutions to today's heavy lifting and engineered transport challenges. With more than 100 entities in 65 countries operating without borders, Sarens handles small-scale to mega-scale projects. It currently employs 4,452 professionals. Safety and excellence are key drivers for Sarens and the company strives daily to establish a safe space for everyone and everything related to its operations. Sarens has been the market leader for over 60 years; over four Sarens family generations are intimately involved in the business. Sarens continues to build the future on the foundations of its rich past and ensures that its clients will always stay ahead of the game when it comes to heavy lifting and engineered transport innovation.