DHL Express has ordered 12 fully electric Alice eCargo aircraft from Eviation – a landmark step in the company's push towards carbon-neutral services.

The aircraft, although small, is certainly of interest to the logistics community. Alice can be flown by a single pilot and can carry 1.2 tonnes of cargo. It requires 30 minutes or less to charge per flight hour and has a maximum range of up to 815 km (440 nautical miles). Alice's advanced electric motors have fewer moving parts to increase reliability and reduce maintenance costs. Its operating software constantly monitors flight performance to ensure optimal efficiency, said DHL.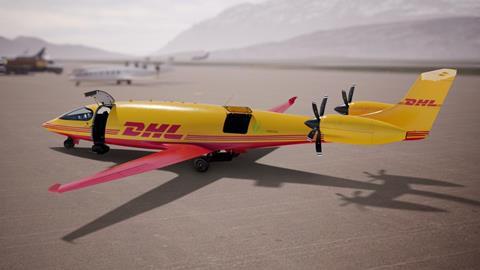 "From day one, we set an audacious goal to transform the aviation industry and create a new era with electric aircraft," said Eviation ceo Omer Bar-Yohay. "Partnering with companies like DHL who are the leaders in sustainable e-cargo transportation is a testament that the electric era is upon us. This announcement is a significant milestone on our quest to transform the future of flight across the globe."
The aircraft is well suited for feeder routes and requires less investment in station infrastructure. Alice can be charged while loading and unloading operations occur, ensuring quick turnaround times that maintain DHL Express' tight schedules.