HLPFI reviews the shortlisted entries for the Heavy Lift Awards 2022 Overland Transport Provider of the Year, sponsored by Goldhofer.
This award will be presented to an equipment-owning company that has executed an outstanding overland project cargo movement – by road, rail or inland waterway – in the last 12 months. Our shortlisted entries demonstrate a commitment to the safe, efficient and innovative transport of heavy and oversize project cargoes.
Our shortlist for the Overland Transport Provider of the Year award at the Heavy Lift Awards 2022:
Allelys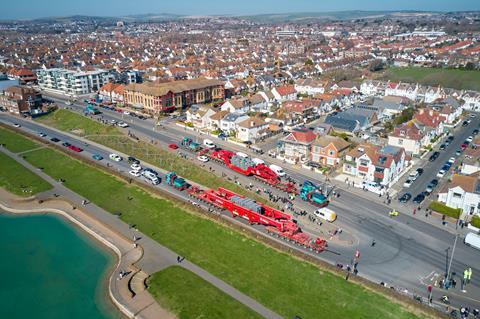 Allelys was shortlisted for the multi-stage delivery of 150-tonne and 195-tonne transformers from Staffordshire to Ninfield Substation. Not only did the eye-catching project have to contend with the difficulties of moving heavy cargoes through congested town centres, but it was also a UK first with two girder bridge trailers being deployed at the same time, drawing upon unique techniques and innovative approaches to deliver the components.
Fagioli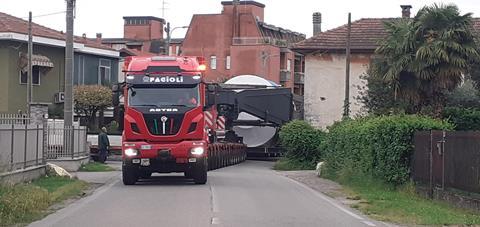 Fagioli was commended by our judges for the transport of various gas and steam units for the Turbigo (MI) thermoelectric plant, including a 334-tonne gas turbine and its heavy transport that combined different techniques: road, sea and river. The multimodal operations using SPMTs and modular trailers saw the long convoy move through narrow Italian villages.
Hareket Heavy Lifting & Project Transportation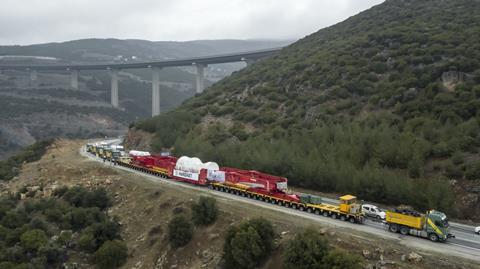 Hareket impressed with the transport of two sets of gas turbines, two sets of generators and associated components from the port of Iskenderun (Turkey) to the Suleymaniye power plant in Iraq – a distance of 1,215 km. After the cargoes were brought to Iskenderun port in transit from Algeria, they were moved using girder bridge configuration with a length of 98.50 m.
Lift & Shift India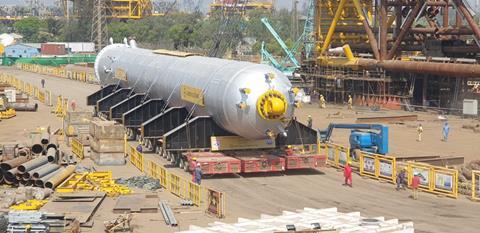 Lift & Shift India made it on to this year's shortlist with the transport of three reactors – fabricated by L&T Heavy Engineering with weights over 2,000 tonnes – for Hindustan Petroleum Corporation Limited (HPCL). The complex and impressive project was praised for overcoming several challenges, including a difficult working environment, planning and permitting issues, weather conditions and, of course, the total weight of the job.

Mammoet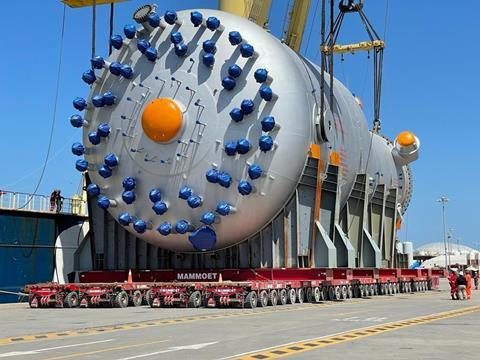 Also on the 2022 shortlist is Mammoet, which showcased its work on the Dos Bocas refinery in Mexico. In particular, Mammoet highlighted how it transported some of the heaviest modules ever seen in the region to the installation site, handling some 605 outsize pieces. 70 modules weighed over 1,000 tonnes and had to be moved across a custom-built bridge structure.
Sarens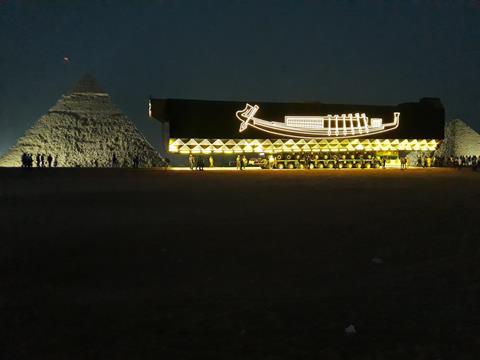 Sarens caught the panel's attention with the transport of an iconic ancient solar boat through the Egyptian pyramids for Besix-Orascom Joint Venture (BOJV), which is responsible for building the new Grand Egyptian Museum in Cairo. The historically significant boat was fragile and needed to be safely lifted from the old Khufu Boat Museum, transported 10 km to the new Grand Egyptian Museum, and installed in the new building.
The winner of the 2022 Overland Transport Provider of the Year will be announced at Heavy Lift Awards 2022 awards ceremony on September 22, 2022, at the Grand Elysee in Hamburg. To join the celebrations, book your space today.

GOLDHOFER is a leading global manufacturer of specialized transportation equipment in the field of general and heavy-duty road haulage and oversized cargo transportation. With a full and proven range of products, including trailers, semitrailers, modular heavy-duty vehicles, self-propelled tractors, transport equipment for wind power plants and aircraft tractors, Goldhofer meets an extremely wide variety of needs in almost every transportation situation. The company has supplied more than 38,000 vehicles to more than a hundred different countries, all of them now doing a reliable job in what are sometimes extremely difficult conditions.