The Project of the Year Award recognises the successful execution of a complex logistics project, involving the door-to-door delivery of multiple oversize and/or heavy cargoes. Fracht Group walked away with this year's prize in what was a highly contested category..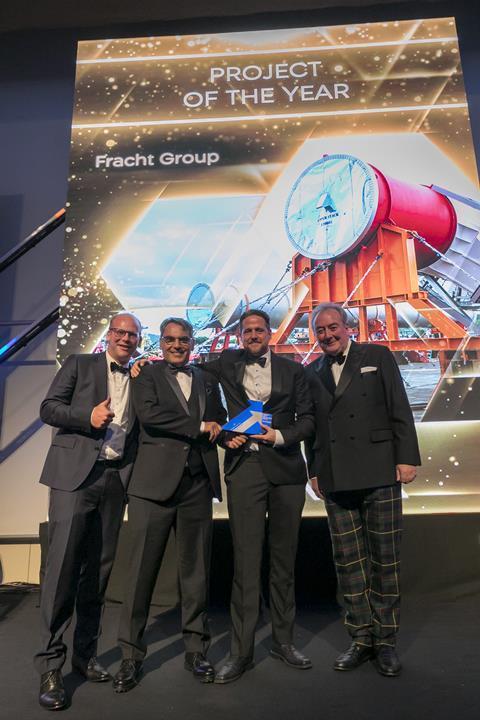 The shortlist included Allelys for the complex multi-stage transportation and installation of a reactor and transformer; deugro for the delivery of more than 280,000 freight tons of petrochemical equipment to Phu My, Vietnam; EFM Global Logistics for the execution of the NASA's James Webb Space Telescope's delivery from Los Angeles, California, to Kourou, French Guiana; and South Africa's Vanguard for its role in the expansion of a Ford Motor Company production facility – a project that involved the delivery and installation of 27 presses.
Eleven Danir 19 also made it on to this year's shortlist and was highly commended by our judges for its delivery of two 83-tonne autoclaves from Germany to Uzbekistan. The company's project professionals in Germany, Russia, Kazakhstan and Uzbekistan, under the supervision of its Latvian office, organised a multimodal solution that included four transhipment operations and transportation by sea, road, and rail transport covering in total 7,500 km.
Taking home the coveted Project of the Year trophy was Fracht Group, which, in cooperation with group company Dextra Project and Industry, showed its skills for Package C of the CRISP project – which included transport of modular furnaces and auxiliaries from Thailand to Singapore.
The scope included land transport and load out at the port of loading; sea transport on a deck carrier; as well as the design, fabrication and installation of a conscientious and thorough lashing plan that maximised safety while minimising hours worked in high temperatures.