With the world of heavy lifting and transportation becoming more complex and technically demanding than ever, here's how synthetic fibers can meet ever increasing demands. Marc Eijssen of Dyneema® reports.
Anyone connected to the world of heavy lifting and transportation will have noticed the changes sweeping through the market in recent years, and the increasing demand this is placing on both equipment and operators.

Bigger demands piling on the pressure
Over the last few years, it has become clear that bigger and more complex demands across the industry mean that there is increasing pressure for operators to complete projects faster and more efficiently, all without compromising high levels of safety and reliability.
Given the increasing safety awareness that all of us across the industry are now becoming familiar with, and the ageing workforces that many companies are working with, managing these conflicting demands is becoming trickier than ever.
Bigger projects
At the same time, I've been amazed at the scale of the engineering projects taking place all around the world and interested to see the changes these have sparked in heavy lifting.
Some of the most impressive examples I've seen of the changing demands come from the world of offshore wind farms – where everything from the turbine blades, to the enormous masts that keep them in the air, are getting bigger and bigger. Not only do these structures tower up to 200 meters above the waves, the remote locations of the farms themselves pose additional challenges for cranes and installation equipment.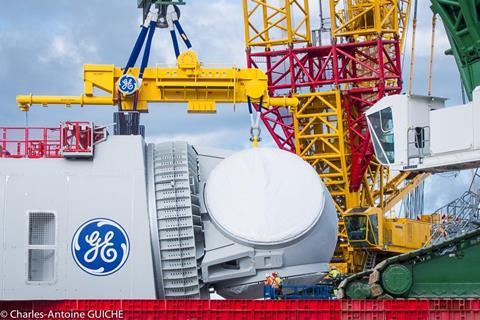 Back on shore, major new engineering projects are also leading to an overhaul of lifting equipment and the development of cranes with larger hoisting heights and load capacities than we've ever seen before. This all means that traditional steel wire lifting equipment is starting to reach its limits, and for some of the biggest projects, it may even be adding unnecessary complexity.
For many heavy lifting experts, succeeding in this new environment will require a change to traditional ways of working. In some areas, this is already happening.

Reshaping heavy lifting operations with synthetic materials
DSM is the inventor and manufacturer of HMPE fiber, branded as Dyneema®. During the past few decades, many industries have switched from conventional materials, such as steel wire or polyester, to Dyneema®. Nowadays, we work with some of the companies behind the world's biggest and most ambitious heavy lifting projects. Many of these organizations are successfully embracing new synthetic lifting solutions – including slings, hoist ropes and chains – to meet the challenges of heavy lifting in 2020.
But what makes synthetic lifting slings made with Dyneema® SK78 perfect for the job?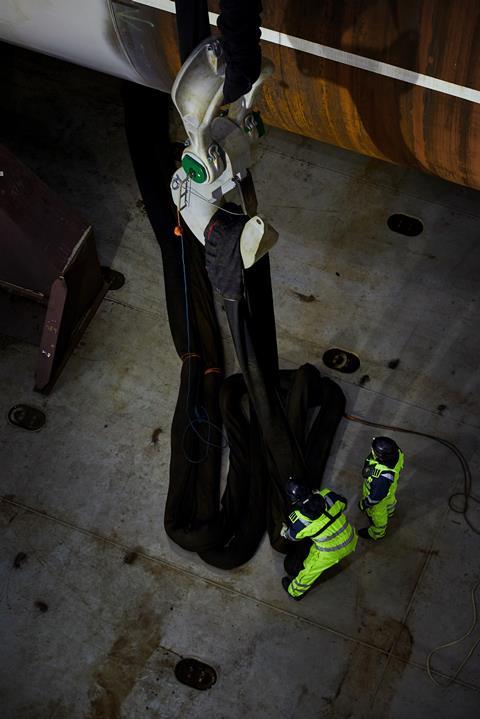 Stronger and lighter

Lifting slings made with Dyneema® SK78 are up to eight times stronger at the same weight. Furthermore they show the highest reliability, powered by Dyneema® SK78 and robust engineering tools – making it possible to handle major projects more efficiently and safely.

Protecting payloads and ensuring job site safety

In order to meet targets while protecting the safety of their people and cargo, heavy lifting operators need slings that are light, flexible and more compact for easy handling, while offering long lasting strength and reliability to ensure the highest safety standards. Both on- and off-shore operations offer their additional environmental challenges, with intense heat or salt increasing wear and fatigue and potentially impacting on safety. These properties also offer clear benefits for the lashing of delicate, heavy and oversized cargo – reducing the chance of damage. Because Dyneema® is hydrophobic, it also remains light in water, making it ideal for use on offshore lifting projects.

Purchasing more than just break strength

Heavy lifting slings need to be reliable in all kinds of environments and under immense pressure. So, it's important that they've been engineered with different applications and environments in mind and tested thoroughly to ensure they're up to the task. Break strength is of course an important consideration, and that is only the first step. From life-long tension fatigue, to temperature performance, from static to dynamic loading, we put Dyneema® SK78 fiber through rigorous testing to make sure your people and cargo are safe, and they're able to work at their full capacity for longer and in all possible scenarios. With slings being the vital link between high value cranes and loads, you need to know what you're getting and be able to rely on more than just a link with a defined break strength.
Sustainable manufacturing with the lowest carbon footprint
With ever increasing environmental regulations, it's important to know that your equipment reaches the highest green standards. This confidence allows you to future-proof your business and contribute towards a sustainable, circular economy. Not only is Dyneema® fiber produced with the lowest carbon footprint, but we're now focused on becoming the first producer of renewable, bio-based HMPE fiber, which works towards your sustainability ambitions without losing any of the strength, reliability and performance standards of the already known Dyneema® SK78 fiber.
This shift in thinking, combined with Dyneema®'s low carbon footprint and high service lifetime can turn your sling from a disposable into a sustainable, long-term asset. In this new era of rapid change and intense competition in heavy lifting, standing still is not an option. Strong and lightweight synthetic solutions offer a new and improved way to work, and at DSM we're supporting industry in making the jump.
If you would like to learn more about heavy lifting equipment made with Dyneema® or you would like to know where to buy, get in touch with us today: https://www.dsm.com/dyneema/en_GB/company-info/contact-us.html

The Dyneema® brand is at the leading edge of the materials innovation curve. Our invention of an ultra-strong, ultra-light material has inspired industries to transform the performance of countless products and applications. Today, Dyneema® the ultra-high molecular weight polyethylene (UHMwPE) is protecting the health and lives of millions of people, and enabling industry to work smarter.