Blue Water Shipping has signed a five-year contract with Vestas that will see it handle the wind turbine manufacturer's components at its terminals in Esbjerg, Denmark, and Cuxhaven, Germany.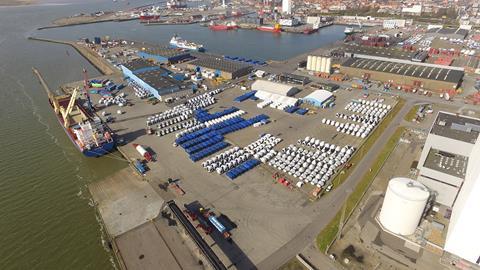 The agreement covers terminal handling of the heavy wind turbine components, stevedoring, storage and service for a five-year period on all Vestas' components, which are shipped to and from all over the world via Esbjerg and Cuxhaven.
"We are proud of this vote of confidence from Vestas who has entrusted us with this important task. Blue Water has been involved from the early days of the wind industry, and our colleagues at the ports and terminals have extensive experience and are prepared to solve the tasks safely and efficiently while contributing to the green transition," said Brian Sørensen, global category head, wind and port service, at Blue Water.
Torben Andersen, head of towers, blades and transport procurement at Vestas, added: "Security and quality are Vestas' priority, and we are convinced that at Blue Water we will get the right solution, and we are looking forward to continuing and expanding the collaboration for a long time to come."