EMS-Fehn Group's heavy haulage specialist, Europatrans, has rebranded to EFG Heavy Haulage.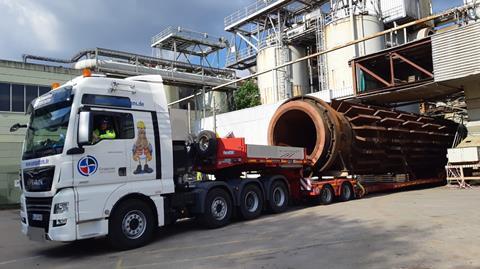 Accompanying the name change, the Germany-based company has also moved its office to the port of Lübeck and will offer additional services.
"With our new place, the new name and the expansion of our range of services we have fully completed the integration of EFG Heavy Haulage into EMS-Fehn-Group," said the group's ceo Manfred Müller. "We are pleased that in addition to road transports we are now also able to offer warehousing, multimodal transhipment and assembly facilities for all kinds of big and heavy goods."
The office is now located on the former premises of Lübecker Maschinenbau Gesellschaft (LMG), once the largest manufacturer of machines, vessels, cranes and steel constructions in the area. The location has approximately 45,000 sq m of inside and outside storage, and is in the vicinity of a 350 m-long quay.
The premises and additional services will cater to the increasing demand for EFG Heavy Haulage's services. One of the drivers of this demand is the wind energy industry, with an increasing need for industrial equipment across Europe. In many cases, EFG Heavy Haulage closely collaborates with its sister companies of EMS-Fehn-Group that specialise in, for example, project logistics or support the building of wind farms with customised crane solutions.
EFG Heavy Haulage managing director Henning Bentien added: "To meet the significant increase in orders we have consistently renewed and expanded our fleet. In addition, our new premises allow us to support our customers with comprehensive warehousing facilities and as a multimodal hub with direct access to the Baltic Sea and the rail, road and waterway network."