The European Commission (EC) has proposed an EU-wide ban on Russian oil imports by the end of year. This would be a complete import ban on all Russian oil, seaborne and pipeline, crude and refined.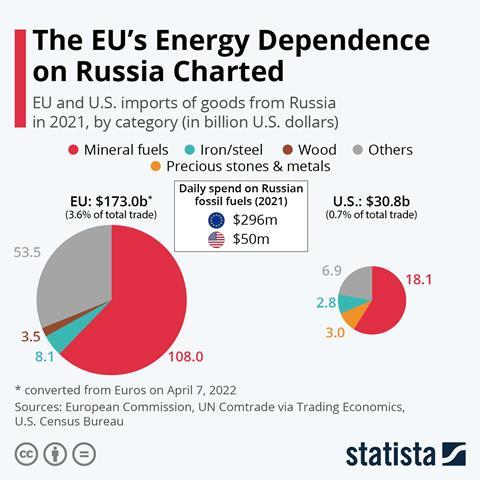 "We will make sure that we phase out Russian oil in an orderly fashion, so in a way that allows us and our partners to secure alternative supply routes and, at the same time, be very careful that we minimise the impact on the global market. And this is why we will phase out Russian supply of crude oil within six months and refined products by the end of the year,"
EC president Ursula von der Leyen told the European Parliament on last week that it aims to phase out Russian supply of crude oil within six months and refined products by the end of the year. Hungary has rejected the proposal. Slovakia and the Czech Republic are calling for a transition period.
While the USA already banned imports of Russian energy in March and April shortly after the country's invasion of Ukraine, the European Union (EU) has taken longer with a number of countries threatening to veto moves to embargo Russian oil. Import data on both the EU and the USA shows how big the difference in their energy dependence on Russia is, according to Statista.
"While 2021 mineral fuel imports into the USA from Russia were the equivalent of USD50 million spent on Russian energy per day, that number was USD296 million in the EU. This is according to numbers by the European Commission, the UN Comtrade database and the U.S. Census Bureau," said Statista.
The EU is poised to ban coal imports, which are the easiest commodity to replace, in August 2022. Gas is trickier due to a lack of European LNG import infrastructure to replace energy that is usually piped from Russia.
"Russia exports mainly raw materials and mineral fuels make up the absolute majority of the goods imported to the EU and the US from the country in 2021. Iron, steel and wood as well as precious stones and metals made up smaller parts of imports from Russia to the countries. All products imported from Russia only amounted to 0.7 percent of the US trade in goods in 2021, while this number was a more significant 3.6 percent in the EU," Statista added.